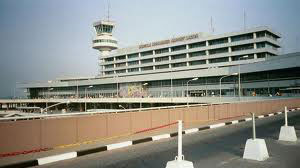 A staff of Aviation Logistics Management, this morning, slumped and died at the Murtala Muhammed International Airport, MMIA, in Lagos State, Southwest Nigeria, eyewitnesses said.
The deceased, Mr. M.K. Malik, slumped at about 7. 30 a.m. at the check-in area of the terminal building and was rushed by friends to the decrepit clinic at the airport to receive first aid treatment.
Friends said that when the tragic incident happened, there were no medical personnel at the airport's clinic to assist the Kogi State-born indigene when he slumped on duty.
Those who rushed him to the clinic and later to the Lagos State University Teaching Hospital, LASUTH, lamented that the deceased could have survived had there been a proper clinic at MMIA.
"When we rushed him there was no drug, no ambulance to take him to the General Hospital and nobody wanted to help him. The clinic at the airport is like a store," one of them lamented. As I am speaking with you, his corpse is still inside my friend's car at LASUTH. The clinic at the airport cannot contain two persons at the same time. It's a shame," she said.
—Simon Ateba
Load more