The only hope for Ghana in the on-going Big Brother Amplified reality show, Alex Biney, has been evicted from the Big Brother game after staying in the BBA house for a record 10 weeks.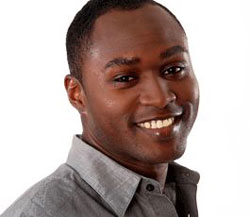 But shockingly, Alex was not the only one evicted. For the first time not one or two, but three housemates, were evicted on Sunday night.
Emotions were very high in the house as the evictees, seen as the three strong housemates, exited the Amplified house.
Botswana's Miss P was the first housemate to receive the boot, followed by her partner, Alex from Ghana, and then Angolan hot diva Weza.
Half the housemates have now been evicted from Big Brother Amplified—meaning that 13 are in the running for the two massive prizes of USD200,000 each.
After Nigerian star Ice Prince ripped up the stage with his hit Superstar, IK took viewers into the House and asked Karen to reveal her Head of House 'save & replace' decision to her Housemates.
"Here's the deal guys – there's Weza, there's Alex, Miss P, me and Sharon O. That's a hard choice. And what I did… I didn't do anything. I swapped no one. I put myself up," she said with shrug. The Housemates stared at each other for a second as her words sank in, before they rose to hug her.
After a performance by the Amplified dancers, IK took viewers straight back into the House. "This is where it gets serious. Housemates, when I call your name, please stand up," he said. After a pause, he called out Miss P's name. "Miss P – please leave the House now" he said, without naming another Housemate.
Once she had emerged on stage, IK confirmed that she had indeed become the next Housemate to be evicted from Big Brother Amplified – and asked her how she was feeling.
"I'm awesome, I've been preparing for this, you know I'm a game-player and this is part of the game," she told him. "What was your best moment in the House?" he asked. "I've had so many! I can't actually pick one. I liked the task where we were all tied up together 'coz it brought us together – but then we hated each other," she said. When quizzed about who she thought had nominated her, she said she had no idea, but "probably the girls".
After viewing the nomination clips, she told IK that Luclay's nomination had hurt the most. Then it was time for her to Blow a Fuse. IK read out the detail: "One Housemate must put on different clown faces every day of the week, this week. Makeup is available in the store room, which means this Fuse commences almost immediately." He turned to her for a name.
"I can't do that to Alex…" she said as the crowd chanted the Ghanaian's name. "Mumba – I need Mumba to come out of the closet, so Mumba," said Miss P.
IK bid her farewell – but immediately took viewers back into the House. "You know the drill, I wish I had more good news, but…. Alex please stand up," IK told the Housemates. "Sharon O, please stand up…. Sharon O, you have been saved. Alex, please leave the House now," IK said.
When the Ghanaian arrived on stage after a second Ice Prince performance, IK asked him what he thought had gone wrong in the House in the last week after things had seemingly been going well for him. "I think that the Jerry Springer Show blew me up!" he exclaimed. "So are you regretting the plan you had with Miss P?" quizzed IK. "No man, I have no regrets, I enjoyed myself."
—Funsho Arogundade

Load more