Nobel Laureate, Professor Wole Soyinka this morning advised the youth to try to be themselves rather than trying to be someone else.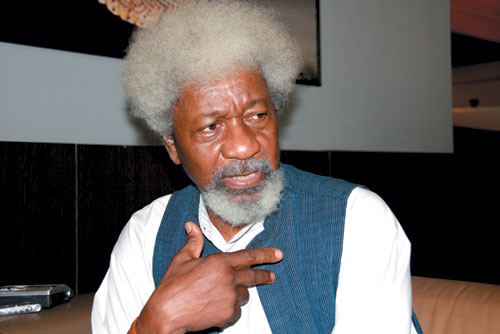 Soyinka gave this advice at his Kemta Idi Aba forest residence, Abeokuta, Ogun State, Southwest Nigeria while playing host to the state Governor, Senator Ibikunle Amosun and the 77 students who participated in this year's 'Wole Soyinka Essay Competition.'
The winner of the essay competition is Miss Aliya Obayoza Ibrahim from Zamani College, Kaduna, Kaduna State.
Soyinka thanked everyone who came from far and near to grace his 77th birthday.
"I am very happy that you gave me this honour. Everything was organised behind me.
All the arrangements were done by my people and those who love me. It is problematic trying to be like Wole Soyinka, my advice to you is to try to be yourself," Soyinka counselled the youth.
Governor Amosun who led the 77 children on the symbolic visit described Soyinka as a great icon, a dogged fighter and an exemplary leader whose main focus is not to amass wealth but to render service to humanity.
He said: "the significance of today's programme is not about the number, 77, but about the decision of this great man people love to call Kongi. This represents a creative challenge and encourage these children who are the future leaders to focus more on their education.
"Soyinka has been an implacable, consistent and outspoken critic of many military dictators and tyranny. We pray that we shall come back here to celebrate more years with him."
Speaking on behalf of the students, the essay competition winner, Miss Aliya Ibrahim expressed appreciation to the governor, Senator Ibikunle Amosun for the honour given them to meet with the great man many of them never thought they could ever meet.
She urged her colleagues to be serious with their education as that is the best legacy they could get from their parents.
Dignitaries present at the occasion include former Commissioner for Tourism in Ogun State, Dr. Mrs. Doyin Ogunbiyi and popular highlife musician, Tunji Oyelana who thrilled the audience with his a special number.
The 77 students who took part in the essay competition were drawn from all the states of the federation. Three of them are Nigerians from the diaspora.
The 77 children later drove round the streets of Abeokuta, to familiarise themselves with the Ogun State capital.
—Abiodun Onafuye/Abeokuta
Load more