Residents of 6, Olalubi Street, Mafoluku, Oshodi, Lagos State, Southwest Nigeria were woken up early yesterday morning with a raging fire ignited by three kids who were playing with matches.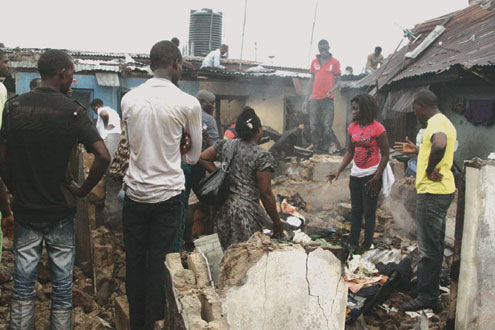 The three kids whose mother was simply identified as "Iya Ayo" were reportedly playing with matches inside their one room apartment in the building when the incident happened.
P.M.NEWS gathered that the light ignited the generator set their parents kept inside the room. The fire was noticed at about 4 a.m when their father, a commuter bus driver and their mother a petty trader have left for work.
Instead of raising an alarm, the kids whose ages range from four to eight years, locked their burning room and ran away.
When the raging fire spread to the other rooms, the tenants raised an alarm which attracted neighbours and area boys.
Before the youth in the area and area boys could put out the fire, food stuff and other household items had been destroyed. One of the tenants who sells rice lost some bags to the fire.
Eyewitnesses told P.M.NEWS that when men of the Fire and Safety Services of the Lagos State later arrived the scene, they were attacked by area boys who expressed their anger that they had already put the fire under control before their arrival.
The windscreen of the Fire Services truck was smashed but none of the fire fighters was injured.
Speaking with P.M.NEWS, the son of the landlord, Kehinde Jolaoso said before the residents knew it, the fire had spread to all the 10 rooms and boys' quarters in the building.
He thanked the youth and area boys who assisted them to put out the fire before it spread to other buildings in the neighborhood.
—Kola Aliyu