The two survivors at a restaurant where four girls and a three-month old baby died at Allen Avenue, at Ikeja, Lagos Southwest Nigeria, on Monday have narrated what happened after Sunday's torrential rain forced them to sleep in a poorly ventilated container shop.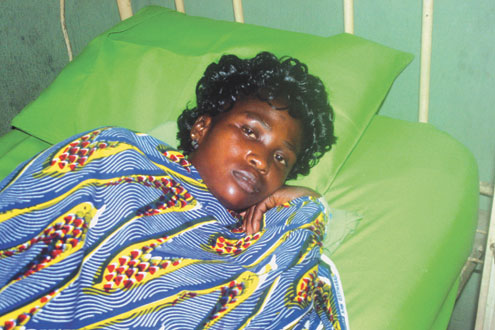 The survivors, Toyin and Victoria Debue who are recuperating at Bodet Hospital, Alausa, after being in a very critical condition, told P.M.NEWS that they were oblivious of what brought them to the hospital.
Toyin, while speaking with P.M.NEWS yesterday, said that she was brought to Nigeria seven years ago to work at the restaurant.
The 20-year old gave the names of her deceased colleagues as Piereti, Shanti, Odinno and Bolandino, though she did not know that they were already dead.
The two girls, who are already in good shape, according to the hospital's management, will be discharged any time from now.
According to Toyin, "on Sunday, I had gone to Agege market to purchase the foodstuffs that we will need for the week in our restaurant. When I was going, it was raining so I decided to leave my phone behind so that it won't get spoilt. When I came back from the market, I dropped the foodstuffs at the restaurant and headed home.
"When I was going, I saw Bolandino (deceased) who told me that our house behind Mountain of Fire and Miracles Ministries, MFM, Agidingbi, had been flooded and they have all decided to come to the restaurant and that was how we all came to the restaurant," she said.
Toyin said that they didn't usually sleep at the restaurant but because of the flood in their home, they had no choice than to sleep at the restaruatnt.
"So when we all got to the restaurant, we cooked all that we needed for Monday, because usually wake up by 4 a.m. everyday and sleeping over at the restaurant was supposed to be an advantage for us.
"We cooked till 12 mid night and after we finished cooking my colleagues prepared eba which they ate before going to sleep. I did not eat because I did not really like it. So I went to sleep without taking anything, but I was surprised to find myself here in the hospital," she said.
Her sister, Victoria corrected the notion that they suffocated as a result of flames that came out of the generating set they kept inside the restaurant before they went to sleep.
"There was no generator, therefore there is no question of whether we put on the generator or not. When we finished cooking, we ensured that we put off the fire in the charcoal that is used to cook.
"The restaurant is a container and it has no window. After we finished all our chores we ate eba and we closed the door before we all slept but I was surprised to find myself here," she said.
When P.M.NEWS visited the restaurant, it was under lock and key, while their neighbours who spoke with our reporter said that the girls were brought sometime ago from Benin Republic to work at the restaurant.
The corpses of the four girls and a baby girl were discovered inside the stuffy restaurant on Allen Avenue, Ikeja, on Monday.
Neighbours said that the deceased may have died of suffocation overnight in the restaurant where they sought refuge after last Sunday's rains wreaked havoc in the state.
The unconscious Toyin and Victoria who were in critical condition at the time they were found, were quickly rushed to Bodet Hospital where they were revived.
The corpses of those who died were first taken to Area F police station, Ikeja in a commuter bus before they were finally taken to Lagos State University Teaching Hospital, LASUTH.
Their Madam who wailed profusely at the police station, disclosed that she asked them to cook outside the restaurant and stay in until the rains stopped.
"My girls don't usually sleep in the restaurant. I did not know that they slept there. I asked them to cook outside when they phoned me and said that water had entered the restaurant. "When I kept calling them and nobody was picking, I was worried and someone picked the call and told me that my girls are dead. I rushed there to confirm it. I couldn't believe what I saw," she lamented.
—Jamiu Yisa
Load more