Arik Air, Nigeria's largest airline, has denied owing the Nigerian Airspace Management Agency, NAMA, over N2 billion debt as alleged by the agency.
The new Aviation Minister, Princess Stella Ada Oduah, on Tuesday gave Arik Air an ultimatum to pay off over N2 billion debt it reportedly owes NAMA within thirty days or be grounded.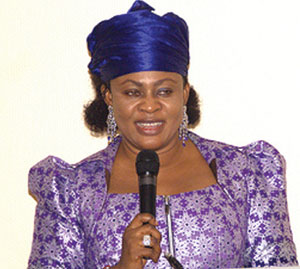 The minister gave the ultimatum at the end of a two-day visit to NAMA, the Federal Airports Authority of Nigeria, FAAN, the Nigerian Civil Aviation Authority, NCAA and other aviation agencies in Lagos, Southwest Nigeria.
Ada Oduah said that the amount involved shocked her, adding that she wondered why the airline was allowed to owe such an enormous amount of money.
But, Arik Air in a statement yesterday by its Public Relations and Communications Manager, Mr. Adebanji Ola, denied any knowledge of the debt and blamed NAMA for misinforming the minister.
"Arik Air, West Africa's largest airline does not owe NAMA over N2 billion navigational charges as alleged by the agency.
"Arik Air has been complying with the pay-as-you-go regime introduced last year by NAMA for its navigational charges.
"NAMA management is being economical with the truth by advising the Honourable Minister of Aviation of a N2 billion allegedly owed by the airline.
"As a going concern, Arik Air is alive to its contractual obligations to service providers including NAMA. Therefore, the 30-day ultimatum to debtor airlines does not apply to Arik Air," the airline said.
On 1 September 2010, NAMA grounded Arik Air over its failure to pay terminal navigational charges.
The grounding of Arik followed an earlier warning that the agency would refuse aircraft clearance to any domestic airline that failed to comply with the pay-as-you-go system, a new mode of payment for terminal navigational charges introduced by NAMA.
While other airlines promptly complied, Arik refused to pay and was forced to cancel all its 120 daily flights within and outside Nigeria.
Barely a week after it was grounded Arik Air was at loggerheads with the Nigerian Civil Aviation Authority, NCAA, over series of dud cheques the airlines allegedly  issued in August 2010.
Documents showed that Arik Air paid over N21 million through cheques to NCAA in August 2010 but all of them were dishonoured.
The airline has also refused to relocate to the Murtala Muhammed Airport Terminal 2 as ordered in 2008 and 2009 by the Federal Airports Authority of Nigeria.
—Simon Ateba