The Lagos State Taskforce on Environment and Offences (Enforcement) Unit has arrested more street urchins, known as area boys in Oshodi, Lagos, South West Nigeria in a bid to sanitise the area and rid it of criminals.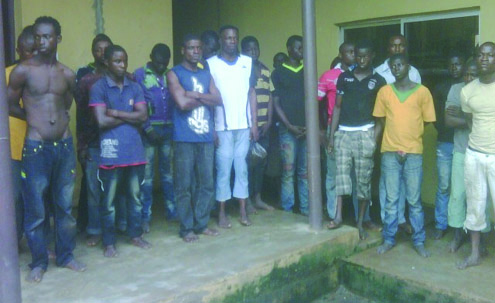 At least 45 area boys were arrested on Thursday in the area in a raid that lasted for hours as policemen armed with guns stormed Oshodi unannounced and immediately swooped on the area boys and hurled them into the Black Maria.
Three weeks ago, at least 119 area boys were arrested in Oshodi and arraigned at the Special Offences Court at Alausa in Ikeja.
P.M.NEWS gathered that the street urchins took to their heels immediately they sighted the taskforce officials while those who were not so lucky were arrested and brought to the taskforce office at Alausa.
The Lagos State Government had declared war on area boys as the majority of them constitute threats to the society.
They snatch valuables things from innocent Lagosians with impunity.
When contacted, the Chairman, Taskforce, Supol Bayo Sulaiman said the raid on area boys in Oshodi was in a renewed effort to recover "what we achieved in the past years by arresting the area boys."
He said the taskforce had been able to drive out traders from the road in Oshodi and ensure that traffic flowed in the area but lamented that area boys had become sa nuisance and that government wanted to stop their activities.
"Our aim is to stem the crime rate and ensure that miscreants do not return to Oshodi again. The raid on these area boys will be on routine basis," he said.
According to Sulaiman, those arrested would be charged to court and if found guilty, they would be punished according to the laws of the state.
He stated that Lagos did not want area boys again and that those who want to continue in the act should leave Lagos as the taskforce would make their stay in the state unbearable, saying that the police could swoop on them unexpectedly.
Sulaiman, however, said that the taskforce had cleared Bariga of illegal street trading, saying that taskforce officials were fully on ground to ensure that the traders did not return to the streets again.
— Kazeem Ugbodaga
Load more