Constitutional lawyer and one-time legal adviser to the Performing Musicians' Association of Nigeria (PMAN), Fred Agbaje, spoke about the life and times of Christy Essien-Igbokwe, the current crisis rocking PMAN and other issues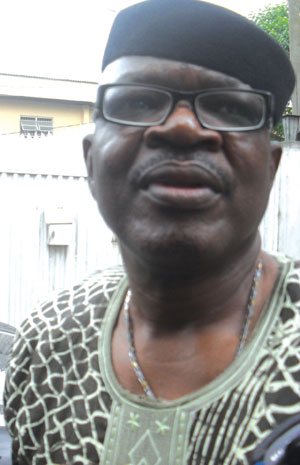 Christy is no more, how do you feel?
Her death, although unexpected, is painful and a colossal loss as well as shocking, but she lived a good life and I am sure most Nigerians will know that. I remember when I was to get married in the late 1980s, of all the women in my life then, the day she met my present wife, she said "my lawyer, this is the wife you will marry out of them all." I was her personal lawyer as well as her business lawyer. I must say this that she stood by us throughout her life and during our struggles. If you don't know, she brought me into PMAN politics in 1992 and said "lawyer, look, we need a person like you." Despite my age then at the bar, she believed in my ability. How many Nigerians will give younger ones opportunity? Christy Essien-Igbokwe was one of those that loved mankind and believed in sharing whatever she had. She was not discriminating and was an epitome of a good leader, a philosopher, spiritually inclined and highly intelligent woman, who was very analytical in her thoughts and was always hoping for the best.
How will you describe her tenure as the president of PMAN?
She was the best president PMAN ever had because her reign earned so much tremendous respect to the union, being the first woman to head its affairs. In fact, she brought motherly touch to the association and bagged international recognition PMAN had been yearning for. So, it was a reign of success. Don't forget that during her reign, it was at the peak of military 'misgovernment,' but she was able to relate well with government and get the best for PMAN and that is why it enjoyed so much respect from the government of the day. She contributed so much to the height PMAN has found itself today and after she left, the organisation went into disarray and everybody is now laying claim to the presidency. When last I spoke with her, I said 'Mama, you cannot be there and this baby you brought to this level is being disintegrated'. We were planning a peace meeting, but death came and snatched her away. With Christy's death, I think all the parties who are fighting should sheathe their swords for the memory of this great Nigerian woman called Chief (Mrs.) Christina Essien-Igbokwe. That is the only way we can honour her because she will not be happy where she is now that the baby she brought up, that is PMAN, is in this mess.
A statement was credited to you that you claimed that PMAN has three presidents, how true is this?
We never said that PMAN had three presidents but the legal position we issued was, as at that time, there were three cases in the courts and until they were decided, it was not ripe for you to say who is who, You know the kind of PMAN we have is where people want to take the law into their hands and don't want to do things legally. But I still enjoin all the parties to sheathe their swords as a sign of respect for this great woman.
One of the court's ruling was that if Fred Agbaje's Chambers swore-in Dele Abiodun, automatically he is the PMAN's president, why is this not so now?
Let me tell you one thing, the election that produced Dele Abiodun took place when there was an appeal. Instead, they went on to conduct another election and you and I know that any act done in flagrant disobedience of court's order does not hold water and don't forget that PMAN's constitution was founded on the rule of law. So you must respect court's order, but another election was held.
Which election?
The Osun election that produced Dele Abiodun and another election was held in Asaba that produced Preddy Wise. Meanwhile, Tee Mac's case was still in court.
Were you aware of the Osun election?
Yes, but I told them it could not hold. I was invited and I told them the legal implications and that I could not be part of lawlessness, so I told them to hold on. I learnt that Dele Abiodun has resigned but up till now, he has not informed me formally. In fact, a day to the day Dele Abiodun allegedly resigned, he was in my house, it was a Sunday and told me some people are intimidating him and I asked him, "how can they intimidate you to resign?" I gave him my words. It was Emma Ogosi that sent me a text message that Dele Abiodun has resigned and I said it is not possible and I told Abiodun that if the police invites him, he should go and tell them what he knows about the so-called allegations and he agreed. But what I heard was that he threw in the towel which means that he is guilty of the allegations because I told him go to the police and make a defence. The way it is now, nobody knows the truth and the veracity of the allegations as the court has not heard his own side. Initially, what we were planning is that Dele Abiodun, Tee Mac, Ogosi and Preddy Wise should meet to resolve the issue which I was discussing with Christy Essien-Igbokwe before she died. Mama is out of the picture now and I think the elders of PMAN should meet to resolve this matter. But the way it is, there is no law and order in PMAN, it's members don't respect the rule of law even though they have a very formidable constitution to govern them in their day-to-day actions. Why can't all the parties submit themselves to fresh election for the likes of D'banj, P-Square and others to come? Throw the door open and if you are a financial member, go and contest, we now know who is who and from that time, an authentic PMAN leader will emerge.