The Ogun State government has indicated its readiness to renovate existing health facilities in the state in order to reduce the mortality rate and ensure the facilities meet world standard.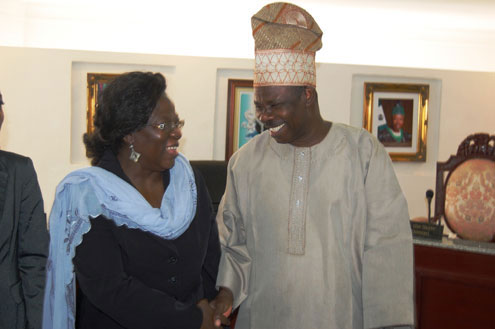 Ogun State Governor, Sen. Ibikunle Amosun stated this during a meeting with a delegation from the United Nations Fund for Population Activities (UNFPA), led by its country representative, Dr. Agate Lawson, at his office in Abeokuta during the weekend.
Amosun stressed that his administration has intensified efforts towards reducing maternal mortality rate through formulation of effective health care policies of offering free medical services for pregnant women and babies at infancy till five years of age.
He noted that it was a deliberate attempt by government to ensure it meets the the millennium development goal indices.
According to the governor, "population and gender related issues cannot be over looked as they remain indices to impact positively on the wellbeing of the people, and as government we will jointly pursue implementation of programmes that are health and youth and development-related and intensify the fight against HIV/ AIDS in the state."
He expressed his sincere appreciation for the support and commitment from the agency over the years, assuring of continued collaboration and support in health, education, housing and capacity building which cuts across all sectors of human endeavour.
"Presently in Ogun State, the ratio of 60 doctors to 4 million population is grossly inadequate. This we will improve upon and ensure that by your next visit total renovation and overhaul of the health sector would have been done and be of best world practice standard,' Amosun promised.
He reiterated his administration's resolve to continuously formulate programmes and policies that would impact positively on its citizens, urging the UNFPA to increase its presence in the state for more beneficial mutual relationship.
In her submission, Dr. Agate Lawson, country representative of UNFPA, said the agency was committed to improving lives in Ogun state and Nigeria in general, noting that maternal health care, gender equality, population and development issues remain critical to its effort at achieving the millennium development goals.
By Abiodun Onafuye/Abeokuta