Hafiz Ringim, the Inspector-General of Police (IG), Hafiz Ringim told journalists on Monday that lack of exchange of information between the Police and military authority was responsible for the confusion over the arrest of a vehicle conveying 700 explosives last week at Abuja city gate by soldiers.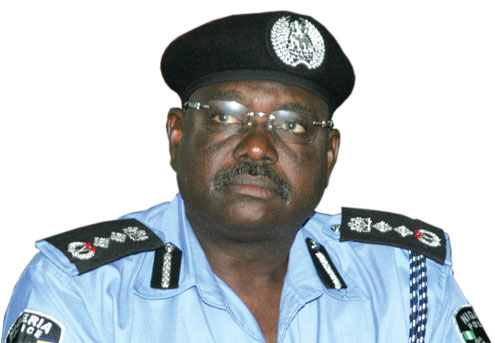 Two police officers accompanying the trailer were also arrested by the military men. Â Some reports had indicated that the explosives were bombs. Police authorities however later said the explosives belonged to some construction companies and that the arrested police officers are on legal duty.
The Inspector General of Police told journalists that what were in the vehicle were incendiary devices being used for blasting by construction companies. The Police boss told reporters in his office in Abuja on Monday that if the military authority and reporters who wrote the story had contacted the Police immediately the vehicle was intercepted, the misinformation would not have occurred.
  
"The continued spread of fear and inaccurate report of incident surrounding the interception of a truck loaded with 700 explosives meant for some quarries and Construction Companies and was legally escorted by policemen as stipulated by law, would have been curtailed if the military authority and the reporter had contacted the police."
"I got to know about the story on the day it was reported in the newspaper" said Ringim.
"I wish to make it clear that the publication in respect of the interception of the truck loaded with explosives meant for Boko Haram was false in its entirety, untrue and should be discountenanced. The policemen were not detained as they were only doing their lawful duties," said the Police boss.
The Inspector General of Police identified the two Police Anti Bomb Squad personnel who were arrested alongside the vehicle by soldiers as Corporal Shorunke Tajudeen and Corporal Ini-obong Okon.
He said the two policemen were officially detailed to escort the consignment of quarry explosives on 13 July from Dynatrac Nigeria Limited Magazine Iperu Remo, Ogun State, to some construction companies and quarry sites in Okene, Kogi State and Abuja.
 Ringim identified the construction companies that owned the explosives as  Broni Prono construction company with its site in Okene, SCC Construction company, Abuja, Salini Construction company, Abuja, Arab contractors, Abuja, Cinihs quarry, Mpape, Abuja,, and  Habibu quarry Mpape, Abuja. He said the consignment for Okene had already being delivered before the arrest of the vehicle at Abuja.
 
The policemen, according to Ringim, were escorting the explosives in company of two members of staff of the company Godday Ikhidero and Taiwo Oyawusi, and in possession of the company's Way Bill itemizing the goods in the truck and their intended destination at the time of arrest.
 The Police boss however said the Police could not place embargo on the companies producing or using explosives because workers working in such companies may lose their jobs. He however advised companies involved in buying and selling of explosives to always seek clearance from his office because of the current security situation in some parts of the country
 
By Oluokun Ayorinde/Abuja