The Federal Government has initiated fresh moves to stop the three-day national strike planned to commence next Wednesday by the Nigerian Labour Congress and the Trade Union Congress, TUC, over the N18, 000 National minimum wage.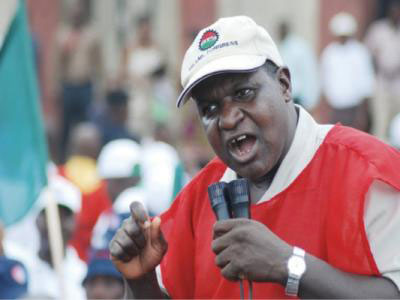 NLC and TUC had yesterday insisted that the planned national strike will go ahead in spite of the promise of 36 state governors last Saturday that they will implement the new national minimum wage.
Owei Lakemfa, Acting Secretary General, NLC, told P.M.NEWS that the labour team will be meeting with the Federal Government team to find a way of ironing out areas of disagreements over the minimum wage issue this afternoon.
He said the meeting will hold at the office of the Secretary to the Government of the Federation, SGF, at 2 pm today. It was gathered that Anyim will lead Federal Government delegation to the talks.
The outcome of the talks may determine whether the scheduled strike from Wednesday to Friday of this week will be called off.
Though the Federal Government said it is ready to pay the new wage, it however said it will apply to only workers on grade level 01 to 06 in the Federal Civil Service.
The labour unions have rejected this insisting that the payment must apply to workers on all the grade levels.
This was revealed at a meeting between the NLC and the Minister of Labour, Emeka Wogu last week.
In the same vein, the governors have failed to state categorically when they will start the implementation of the minimum wage.
Rotimi Amaechi, Chairman, Nigeria Governors' Forum at a briefing last Saturday said each governor will negotiate with workers in their states on when the payment will begin.
The labour unions, it was learnt, will meet with the governors tomorrow over the issue.
The NLC and the TUC yesterday said the federal and state government must sign agreements with workers that the national minimum wage must be implemented across board based on salary relativity that will not distort the payment table at the federal, state and local government levels.
They are also insisting that the payment of the national minimum wage should take effect from 23 March, 2011, the day President Goodluck Jonathan signed the new national minimum wage into law and that the arrears must be paid within three months.
The labour unions also said workers must not be retrenched or their taxes increased in any form as a result of the payment of the minimum wage.
—Oluokun Ayorinde/Abuja

Load more