Octogenarian musician, Fatai Rolling Dollar and nine other versatile musicians are taking their brand of Faaji music to New York, United States, with a scheduled gig on Friday 22 July.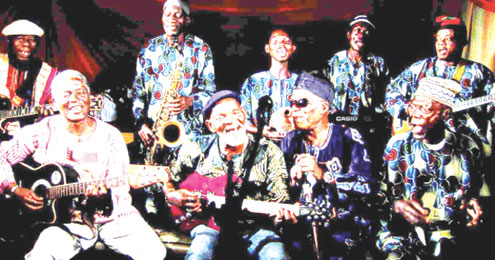 The ten veterans, coming under the Faaji Agba Collective have been invited to New York by Bric Arts Media to perform at the prestigious 2011 Brooklyn Festival, the largest annual festival in New York.
The Faaji Agba Collective is the brainchild of music historian and revivalist, Kunle Tejuosho, CEO, Jazzhole Records, one of Africa's most progressive independent labels.
They are coming together for the musical mission of preaching the new gospel of Faaji Music in America. The Faaji Agba Collective is a blend of octogenarian, septuagenarians, middle-aged men and a couple of over 30s —ages range from 30 to 84.
Apart from Rolling Dollar (84), others are Alaba Pedro (72), Eji Oyewole (70), Shina Ayinde Bakare (66), S. F. Olowookere (65), Samson Adegbite (64), Taiye Ayanwale (54), Nureini Sunmola (42), Kunle Adeniran (35) and Niyi Ajileye (30). Jazzhole Records has over the last two decades, given a new and broader lease of life to the musical careers of these stars of yesteryears.
Faaji Agba has been described as Nigeria's answer to the Buena Vista Social Club: a super group of veteran musicians who are re-popularizing Faaji grooves, Agidigbo Blues, Juju and other styles of Nigerian roots. The 2011 Brooklyn Festival will also feature the Afrobeat music of Seun Kuti and his Egypt '80.
—Funsho Arogundade
Load more