At a short but impressive ceremony in Lagos, CFAO-CICA, owners of the Great Wall brand in Nigeria, donated a one-ton Truck to the Federal Road Safety Commission (FRSC). The donation, which was in aid of the FRSC Children Accident Prevention Initiative (CAPI) was described as the company's efforts at giving back to the society, especially through an effort that cares for children's safety.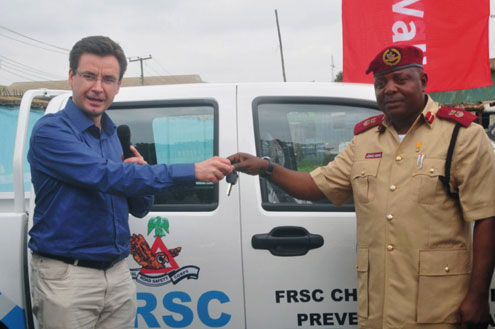 "We feel highly honoured and proud to be part of the CAPI's effort because the initiative specially address the need of our children in terms of traffic accident prevention.
As leaders of tomorrow, no sacrifice is too much to be made for these children who will take over the reigns," said Mr.Regis Tromeur, Managing Director, CFAO-CICA.
He noted that it is the company's belief that the donation of the Great Wall Wingle will assist the project organizers to reach the children in the nooks and crannies of Lagos State. Tromeur observed that the choice of the Great Wall Wingle for this initiative was as a result of careful consideration of its ability to deliver on tough terrains, ensure fuel efficiency, and passenger comfort.
In his opening address, the Lagos State Sector Commander, Mr. Jonas Agwu, said that the CAPI initiative is an answer to sensitizing the children to the safety drive and it is designed to create awareness among the children while providing an answer to the need for them to be safety conscious.
He said that the efforts of an intervention group, inaugurated in Lagos on May 27, was specifically constituted to sensitize school owners, administrators, parents and other relevant stakeholders ahead of the commencement of the project.
Recalling the unfortunate incident of the three school children involved in the Lagos nursery and primary school accident on the Lekki-Epe Express Way Road on May 1, 2011 who lost their lives, Agwu said that the initiative could not have come at a better time. He said many of such cases continue to occur without abating.
He informed the gathering that pupils of public and private schools in the country will soon adorn reflective jackets over their school uniforms as part of the safety initiative. According to him the measure is designed to provide a safety column around the children against automobile accidents through high visibility and thus safeguard the life of these young pupils.
Explaining the CAPI initiative at the event, Mr. Aduba Benjamin, the South-West coordinator of CAPI said that the team would in three weeks time move neighbouring States to Lagos to inaugurate the project and later take it to other parts of the country. He also called on well meaning corporate organizations and individuals to join hands with the group to bring relief to the children.

Load more