Fierce competition within the pick-up segment of the auto industry in Nigeria is gearing up and brands are not leaving anything to chance for a chunk of the market.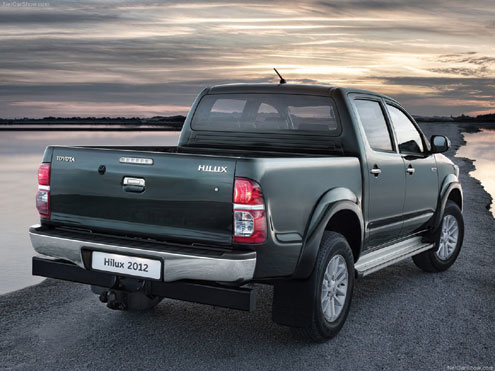 Recently, the Volkswagen group in Nigeria, rocked the boat when it launched the Amarok, positioned to overthrow the Toyota Hilux, while Greatwall's Wingle is trying to grab a piece of the action.
But Toyota Nigeria Limited, marketers of the Japanese brand in its bid not to relinquish its lead position, both in sales and import, has planned to unveil the revised 2012 Hilux.
Test drivers have given a thumbs up for the new Hilux, describing it as a tough, rugged and redefined vehicle that has an excellent reputation.
According to statistics, the cabin has been extensively restyled with a new upper dashboard and horizontal centre instrument cluster to reinforce the breadth and roominess of the cabin.
Darker finishes throughout with more colour consistency – and the addition of some bright-metal trim – are intended to improve perceived quality.
But the big changes are on the outside, where everything in front of the A pillars is new — bonnet, grille, headlights and front bumpers.
Front and rear wings are also new, framing redesigned 15" and 17" steel and alloy rims, as are the door mirrors. Perhaps it would be easier to say the doors, roof and tailgate are unchanged; everything else is new!
In a clever bit of parts-bin engineering, two-wheel drive models now have the same heavy-duty, high-rise chassis as their all-wheel drive stable-mates, simplifying production, improving ground clearance and increasing the two-wheel drive models' towing capacity to 2.5 tons.
Hilux, in single, extended and double-cab flavours, with manual and auto transmissions and two or all-wheel drive, are available in Nigeria and sold in 136 countries around the world – how's that for a global model!
According to Mezie Chukwu, CEO, Sandburst Technologies, Ikeja, Lagos, Looks great. This vehicle is a legend, it doesn't matter what it looks like, it will continue to sell well because it deserves to. To me it is the only choice in this segment. No point comparing it to the Amarok. The Hilux will never let you down. The Amarok still has a mountain to climb in terms of convincing Nigerians that VW can service a car and their little engine will last longer than a few thousand kilometers.
Chukwudi Maduforo, from Abia State could not be swayed with the pictures of the new Hilux: I really don't like the front end. It does not appear "rugged" and "butch". Even then,
VW nailed it with Amarok – simple, clean yet rugged design that also appears pleasing to the eye. But when it comes to what these things are about, the Hilux is probably still one of the best around.

Load more