Following incessant cases of collapsed building in the state, the Lagos State Government has shut down 34 distressed buildings on Lagos Island, Lagos, South West Nigeria, ahead of their demolition, if they failed integrity test.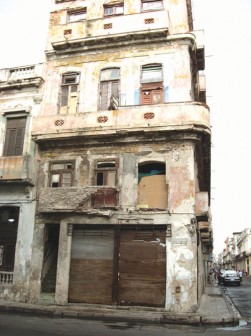 Commissioner for Physical Planning and Urban Development, Mr. Olutoyin Ayinde disclosed this on Thursday, saying that in the last one week, 34 distressed buildings had been shut on Lagos Island.
Speaking at a news conference at Alausa, Ayinde said government was no longer taking the issue of collapsed building lightly, saying that the noose had been tightened and that owners of collapsed buildings would now be declared wanted and prosecuted once found.
He said most of these incidents were avoidable but lamented that many Lagosians had breached the Physical Planning Law and Regulations with impunity.
"The Lagos State Government is resolved to apply the weight of the law to arrest this situation. The state government is mindful of increase in contravening conducts of property owners, building developers and occupants of buildings in the area of construction of building without development
"We are also mindful of construction of buildings in violation of approved building plan contrary to section 36 of the law and the conversion of residential premises to commercial or any unauthorised use contrary to section 64 of the Physical Planning and Urban Development Regulations 2005," he stated.
The commissioner lamented that there had been construction of buildings on road alignment and drainage setback as well as general violation of the state Urban and Regional Planning and Development Law and Regulations.
"Property owners and developers in the state are hereby enjoined to ensure full compliance with the provisions of the law and regulations and observe strict adherence to maintenance of their property to prevent any deterioration of the structure.
"Members of the public are hereby notified that the state government, in collaboration with the law enforcement agency will henceforth prosecute any person liable for violation of any of its law and regulations," he warned.
Ayinde stated that monitoring teams had been set up to ensure that the laws of the state were adequately complied with by the public, adding that the state was looking at a situation where it would not mark buildings for demolition again but step up monitoring to ensure that once a building was not approved, it would be demolished even at the foundation level.
According to him, officers assigned to monitor such buildings would be sanction if they allow the developer to get through the foundation level before such unapproved buildings were brought down.
He added that there were currently 645 buildings which had been marked and their owners needed to urgently renovate such, stressing that the property of owners of collapsed buildings would be seized.
Ayinde added that owners of properties marked as distressed should test the integrity of their buildings at the Material Testing Laboratory to ascertain their integrity, adding that government was more than ever determined to ensure that the Physical Planning laws of the state were complied with.
—Kazeem Ugbodaga
Load more