Nobel Laureate, Professor Wole Soyinka has called on President Goodluck Jonathan to put the Freedom of Information Act to test by instituting an investigation into the controversy that surrounded the death of his successor, President Umaru Yar' Adua.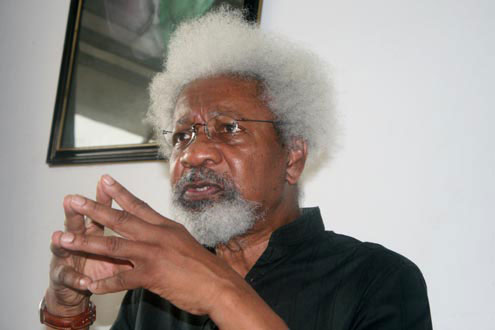 Soyinka spoke at the Town Hall Meeting of the Newspaper Proprietors Association of Nigeria, NPAN, held at the Muson Centre, Onikan Lagos, South West Nigeria on Thursday.
He said Nigerians deserved to know those who were involved in concealing the true state of health of Yar'Ádua from 22 November 2009 till he died on 5 May, 2010.
According to Soyinka, the essence of the FOI Act was to bring to public knowledge worrisome incidents that had portrayed the country in bad light the among comity of nations, saying that cases such as concealment of issues surrounding Yar' Adua's death could no-longer be swept under the carpet in the face of the Act.
Soyinka said it was a shame that Yar'Ádua was even concealed when he was brought into the country at night so that the public would not know what was happening, saying that the whole thing was appalling.
He challenged Jonathan to apply the provisions of the FOI Act to get to the root of the matter of concealment concerning the late president's medical treatment in Saudi Arabia and his eventual demise.
Soyinka stated that since the incident was still shrouded in secrecy as part of official Secret Act of the government, it had made nonsense of the FOI Act in the country.
"I am aware that president Jonathan has set up commission of enquiry into the issue, but I am challenging him to use the FOI Act to investigate those involved in the concealment, how was this possible, what documents were involved, was any member of senate involved?
"Were there public officers involved? Whose signature appears on that document? Who are the members of security involved physically?"
According to him, that episode is over but knowledge is unending and "so I am challenging the government of Jonathan and the public to put this Freedom of Information Act to test with the melodramatic incident that happened in this country for more than one year.
"It's a one in a life time and you can say that is the dramatist in me that is looking for materials, but as a citizen I have a right to know and I am compelling President Jonathan to proceed with this bill by setting up the proceeding and panel that will find out what happened to the president within this period."
By Kazeem Ugbodaga