An unidentified woman this morning abandoned a new born baby boy under a SUV parked at Adeboun Street, Gegento, Oko-Oba, Agege, Lagos State, Southwest Nigeria.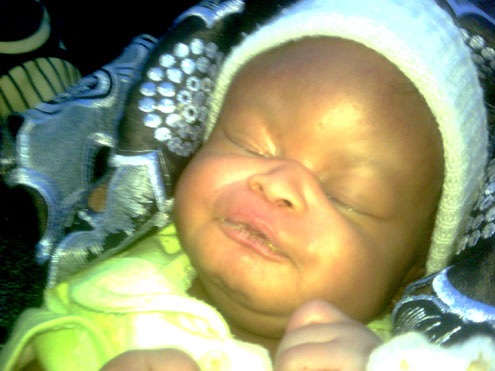 P.M.NEWS gathered that the cry of the baby attracted residents of the area who were coming from a nearby mosque.
They later found the baby abandoned under the SUV, bleeding with his umbilical cord still intact.
An eyewitness, Modinat Dada, a surveyor, said: "We were coming from a mosque at about 6.30 a.m. when we heard the baby crying. We shouted when we saw the state of the baby. He was naked, bleeding and his umbilical cord was yet to be removed. The baby was shaking because of cold and as onlookers gathered we decided to clothe him ."
Iyaloja General of Orile-Agege, Mrs. F. O. Adenekan, who lives in the neighbourhood, said: "This is wickedness of a mother. It was the cry of the baby that made me to come down from my bedroom. The baby will survive and become somebody in life in the name of Almighty God.
The case has been reported at Abattoir Police Division by some of the eyewitnesses including Samuel Obabunmi, Nurudeen Diyaola and Olajumoke Erinle.
Thereafter, the baby was taken to Merit Hospital, Oko-Oba Agege, accompanied by policemen.
However, the doctor on duty after examining the baby directed them to Oke-Odo General Hospital, where he is being treated.
As at time of filing this report, the baby was still responding to treatment.
—Oluwole Adeboye

Load more