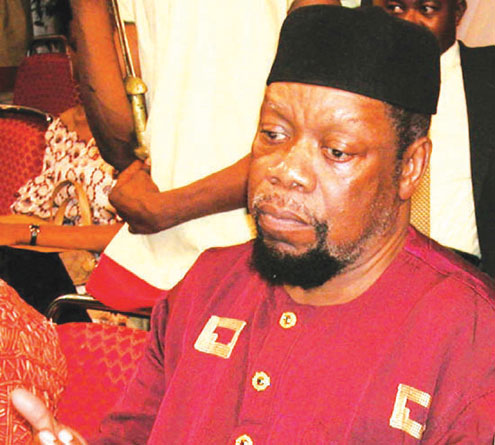 Contrary to recent reports that he is responding to treatment, P.M.NEWS investigations have revealed that former Biafran warlord, Dim Chukwuemeka Ojukwu may not be in any position to return to the country very soon as there has not been any significant improvement in his health since he was rushed to the United Kingdom last year.
P.M.NEWS investigations in London revealed that Ojukwu is still on admission and on life support machine at the intensive care unit of Royal Berkshire Hospital, Reading, West Berkshire, where he was moved to on 27 June following anxiety over a fresh chest infection which worsened his condition.
Royal Berkshire is an NHS hospital but it was not clear if British tax payers are picking Ojukwu's health bills. P.M.NEWS observed that Ojukwu was in a ward that any British tax payer would have been. It was also discovered that Ojukwu is not getting any special treatment that his condition deserved at the hospital.
Ojukwu is on admission at the Ememer Green ward of the hospital and the only person keeping him company when P.M.NEWS visited was Bob Enyeama who described himself as chief of staff to the former Biafran warlord. Though he insisted that the Eze Ndigbo was "in good health", P.M.NEWS observed that Ojukwu was bed-ridden, appeared to be still with eyes constantly staring at the ceiling. Enyeama later chased the P.M.NEWS correspondent out of the ward when he knew about his mission. But a member of staff of the hospital told P.M.NEWS that they are waiting for the family members of the Biafran warlord to decide if the life support he is on should be switched off.
Asked if Ojukwu could still make it with his current condition, she replied: "You saw him yourself, what do you think?"
P.M.NEWS was also at the other institutions where the Biafran warlord has been treated since he was taken to London. Ojukwu was rushed to the Royal Berkshire hospital from the Lynden Hill Care Home, Berkshire where he was admitted on 6 June, 2011.
The Lynden Care Home is located in an isolated countryside and the clinic in its promo claim to specialise in "natural healing". It is suspected that after all normal medical efforts failed his handlers may have resorted to the "natural healing" at the care home.
A worker who claimed anonymity stated that the home could only have him for a few weeks as he was reaching a "vegetative stage, could not respond to sound or his environment". Some members of Ojukwu family had earlier condemned the transfer of the former Biafran warlord to this institution which they said have no facilities for comprehensive specialist care and rehabilitation services like physiotherapy, speech therapy and high level of nursing input which Ojukwu requires in his present condition. Before then, Ojukwu was on admission at Wellington Hospital, North West London, and sources within the hospital claimed that when he was brought in, his condition had deteriorated and he spent most of the time on wheelchair and assisted care. Sources claimed his condition never improved and he was "self-checked out again".
When he was flown to the United Kingdom on 23 December last year as a result of the rapid deterioration of his health, the first institution Ojukwu was admitted to was the London Clinic, Devonshire Place, London. Though P.M.NEWS confirmed that the Eze Ndigbo was admitted at the hospital, they would not comment on his state of health on admission but they did confirm a "self-check out" by those who brought him in. The findings by P.M.NEWS confirmed assertions by some close members of family of Ojukwu. "At no stage at the London Clinic and later when he was moved to Wellington was he well enough talk, sit or eat let alone exercise without being assisted by a physiotherapist," a source close to the Ojukwu family had told P.M.NEWS while disputing the claims that Ojukwu was on his way back to Nigeria as published in some newspapers.
P.M.NEWS investigations revealed that members of Ojukwu's family are calling for the return of the former warlord to the London Clinic where they believed he can get better specialist care.
—Kayode Ogundamisi/London & Oluokun Ayorinde/Abuja