Africa's king of R & B, Darey, has announced the release of a remix of Sisi Eko, a track which was originally on the Heart disc of his double album, Double Dare. The remix of the bluesy Yoruba song features the rave of the moment, Flavour, whose contemporary highlife songs have dominated the charts, clubs and streets.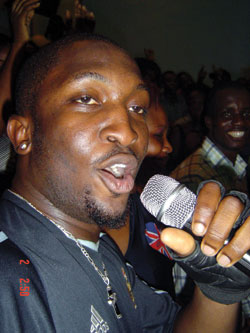 The new cut which is three minutes and 42 seconds in duration and produced by Cobhams, is an up tempo track which suggests it is being targeted at the clubs.
Despite the change in tempo, the song still retains its highlife feel as Darey sticks to the original lyrics, while Flavour adds his unique brand of contemporary highlife style which has made him one of Nigeria's fastest rising music stars. The remixed version was produced by Del B (Ayodele Basil) and Darey.
"This is a beautiful time in Nigerian music. There is a sort of renaissance of highlife music in Nigeria right now. Artistes like Flavour and Duncan Mighty are really bringing this genre of music to a generation of listeners that might not be too familiar with it. Of course, I am a lover and student of highlife, so it only felt right for me to contribute my quota to this movement," says Darey.
After being a mainstay in the musical scene in the East, Flavour broke into national prominence after he featured on M.I's hit song, Number One and since then, his profile has greatly risen as he is topping all the major charts from MTV Base, Trace and SoundCity to Channel O. The South-Eastern star blends excellently with the king of R&B, creating a fascinating joint that'll dominate this summer.
Darey, it was gathered, chose Flavour to join him on the remix because "he is one of my favourite artistes around now and we were both keen on working together most especially because of our unique genre. We finally got into the studio and the song came out great."
Meanwhile, for the remaining part of the year, Darey is busy performing and recording. After dropping more remixes from his last album, Double Dare: Heart and Beat, he will present his debut UK album.
In between these, the multi-talented singer plans to announce a number of tours and engagements.
"I am currently putting finishing touches to my UK album. It should be out pretty soon. It's still the same old Darey just the songs will cater more to an international audience. My Nigerian fans shouldn't worry, I won't be singing with a cockney accent. The album is nothing that drastic, it's just good music which my fans have known me for," explains Darey on the sound and direction of his UK album.
Darey's latest album, Double Dare: Heart and Beat, was released in February amidst rave reviews. So far, it has been commercially and critically acclaimed, while his latest video, Ba Ni Kidi, is also a mainstay on majority of the music video charts on both cable and terrestrial stations.
Double Dare: Heart and Beat is currently on sale on iTunes and also available in music retail spots nationwide.

Load more