At least four persons died this morning when a fallen petrol tanker exploded in Enugu, Southeast Nigeria, and also set at least 15 houses ablaze. The victims were burnt while others sustained severe injuries.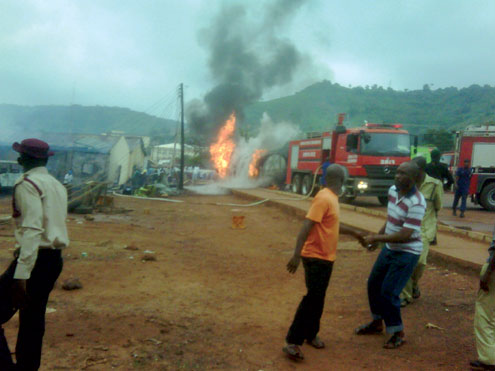 The Mack truck conveying 33,000 litres of petrol fell opposite Enugu Prisons and spilled its contents into the prisons barracks.
The petrol also flowed into the Central Police Station Barracks and the ensuing inferno it ignited destroyed property worth millions of naira.
The inferno which spread fast through drainage channels also burnt nine vehicles and several motorcycles parked within the area .
"Immediately I parked my bus, the tanker exploded and I ran for my life because it blocked my escape route," said Okolo Ozo Okolo, son of a warder who came to see his parents.
His commuter bus with Jigawa registration number was burnt beyond repairs.
The fire also gutted stalls along the railline at Ogbete Main Market, Enugu just behind the barracks.
Ogenyi, a trader who sells plastic wares and provisions, lost part of his wares. Many traders also lost their wares.
When P.M.NEWS visited the scene, men of the State Fire Service were battling to put out the inferno but action was delayed due to lack of necessary chemicals which forced them to resort to mixing Omo detergent with the water they used to fight the fire.
P.M.NEWS gathered that the Commander Arms Squad Unit of the Prisons simply identified as Mr Elechi also lost his apartment and other valuables to the fire.
It was learnt that the driver of the ill-fated tanker believed to be from the Northern part of the country immediately disappeared when the incident happened.
The combined efforts of security agencies and other sympathisers helped to put out the fire at about 10a.m.
One of the victims of the fire incident was a boy who died while trying to save his grandmother who fell down while trying to escape.
—Jude Orji/Enugu

Load more