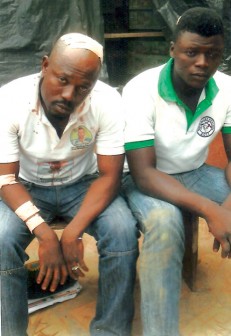 There was stampede on Agbado Oja area of Ifo Local Government, Ogun State on Tuesday when a team of the National Union of Road Transport Workers [NURTW] and Road Transport Employers Association of Nigeria [RTEAN] clashed with members of the 3-Wheelers Association.
During the bloody clash which started at about 9:30 a.m, a 3-Wheeler member, Oseni Sulaimon a.k.a. Osama was shot, while several others were injured.
P.M NEWS gathered that the clash, which has caused panic among commuters in the affected areas, is as a result of the Ogun State House of Assembly directive of 13 July, 2011 which allows the three registered associations to operate independently.
The directive fuelled the anger of NURTW/RTEAN members who later launched an attack on the 3-Wheelers.
According to the Chairman of the 3-Wheelers Association, Saheed Daleko, the government should further intervene in the matter "because they [NURTW/RTEAN] have vowed to attack us again on Monday next week. But as law abiding citizens, we wouldn't want to take the law into our hands, so they should be called to order."
—Bayo Adetu

Load more