Two convicted fake military men made a confessional statement at an Apapa magistrate's court that the Army uniform found on them were actually a camouflage they wear while robbing their victims.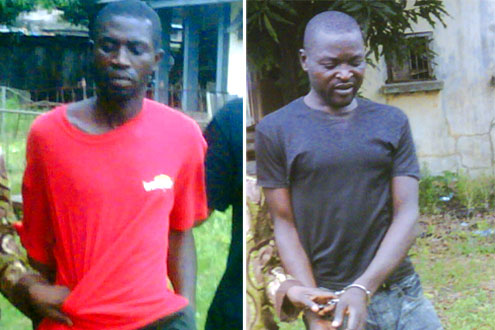 They said that it was convenient for them to use Army uniform to intimidate people before Simeon Utosor and Dangena gun men robbing them within and outside Lagos State.
"When a victim sees us with the attire, they will become agitated and intimidated and whatever we ask them to do they will comply, not knowing that we are not genuine officers," they confessed.
The magistrate, Mrs. A.K. Sonubi consequently sentenced them to eight years imprisonment without an option of fine.
The jailed men, Simon Utosor and Dangena Gurum were jailed after they pleaded guilty for parading themselves as military officers and using army uniforms to intimidate, extort money and rob innocent people in Lagos State.
Simon Utosor, 37 and a 37-year old Dangena Gurum will be spending the next eight years behind bars for extortion and impersonation.
Dangena and Simon were arrested at Alaba Suru, Ajegunle wearing army uniform, fake identity cards, and other paraphernalia of soldiers.
The duo were sentenced accordingly after they pleaded guilty of the offence which the police said is contrary to section 428 of the Criminal Code, Cap 17 Vol. II, Laws of Lagos State of Nigeria, 2003.
Simon was jailed for five years without an option of fine after checks in the court's records, showed that he was convicted of the same offence in 2009. The court noted that Simon was a threat to the society and if he was allowed to go scot-free, he will still go back to commit the same crime.
Dangena was a bit lucky as he was sentenced to three years after he pleaded with the court for leniency.
He also told the court that he was a dismissed soldier and needed to move on with his life.
—Cyriacus Izuekwe

Load more