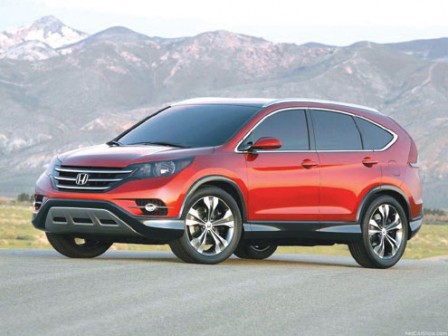 Honda has released a photo of the 2012 CR-V, which it describes as a concept. Officially, Honda says it provides a first glimpse of the styling direction for the fourth generation CR-V. We doubt the five-spoke wheels or blacked out windows will be the same on the production model but suspect the sheet metal will look like this when it goes on sale at the end of this year.
Overall, the 2012 CR-V has a more aggressive look than the current 2011 CR-V. The biggest change is tighter integration of the sloping headlights into the front fenders and a nice kick up to the side windows behind the rear doors. The front bumper is slightly higher, giving the soft-roader a better approach angle for those who do want to venture off-road. Honda has not yet released any tech details but says the all-new 2012 Honda CR-V will improve upon the current model in a variety of ways, including a more fuel-efficient engine and reduced body weight. In addition to all-new exterior styling, the 2012 CR-V will have an all-new interior with a more accommodating and spacious design with a lower cargo floor.
The first chance to see the 2012 CR-V Concept will be at the Orange County International Auto Show in Anaheim, California, in September.

Load more