For Esther Ojo-Oba Oniyire, what started as a stage choir presentation about 24 years ago led to the discovery of her destiny and signalled the beginning of a life career. Today at 30, the Ekiti State-born gospel singer leads a 15-member band of Divine Melody Voices.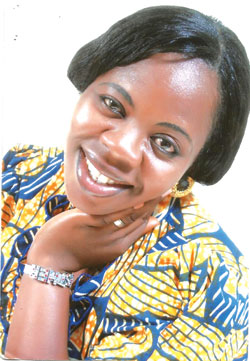 The third child of Chief and Lady Evangelist Ojo-Oba, Esther, a trained nurse admitted that "although I love music, my mother's work then and her disposition was against my going into it, thus preventing my starting early."
But because God had said it was her destiny, she yielded to the calling in later years.
In order to keep abreast with the demands of her responsibilities and enhance productivity and competence, she attended Peter King College of Music, Badagry, where she learnt how to play the keyboard and later commenced a full-time gospel music ministry in 2004 with her first album, Temi Adara, followed by three others which include a sound track, Eni Ikoko Kan and Everlasting Praises. Her latest work, Perfect Testimony, was released a couple of weeks ago. She is also into life performance among other music related activities.
Esther's music strength lies within her creative ability to blend her voice with mixes of medleys to produce scintillating effects to hold her audience spellbound for endless hours.
Although she is still in search of a good marketer, she opined that gospel musicians are not everyday money-making musicians like juju or hip hop artistes, while she strongly believes that God, who endowed them, will promote and reward them.

Load more