As the FIFA U-20 World Cup kicks off in Colombia tonight, Nigeria's Flying Eagles who will play their first game on Sunday are perfecting their strategies ahead of their tie against Guatemala in the city of Armenia.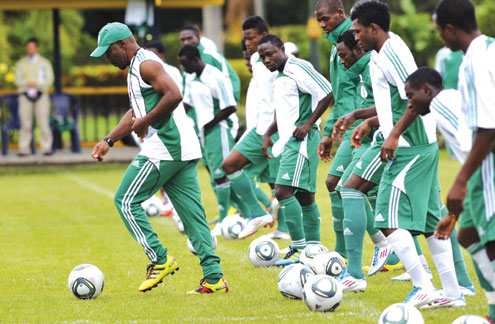 The African champions will train at the 21,729-capacity Estadio Centenario pitch today. Since arriving Armenia for the World Youth Championship, WYC, the Flying Eagles have trained at three different training grounds. The recently-renovated Estadio Centenario Stadium will host five Group D matches as well as a second round game.
Expectations are high that the Flying Eagles, who failed to perform well at the Four-Nation Championship in Panama, will put smiles on the faces of Nigerians in the World Cup. The team are already aware of the task ahead and have promised not to disappoint when they face Guatemala 9 p.m Nigerian time, on Sunday.
Coach John Obu has vowed to give the central Americans debutants a good fight in the opening match in Group D. Obuh said the Flying Eagles are ready to face their group opponents in the WYC.
"I am quite impressed with our preparation so far. The training is going on fine and we are fully ready mentally, physically and psychologically. We are here for business and we want to prove to the world that the Flying Eagles are the champions in Africa," said Obuh, who tipped his team to qualify for the next round.
Guatemala coach, Hugo Almeida, believes his team are good to scale the hurdles of their group, judging from their performance in the CONCACAF qualifying tournament
"We'll be giving it everything we've got. Our goal is obviously to win and bring some happiness to a lot of people," Almeida said.
The Nigerian team will be led by Ramon Azeez with the quartet of Sani Emmanuel, Kenneth Omeruo, Omoh Ojabu and Paul Dami of the 2009 Golden Eaglets squad.
—Sunday Akintoye

Load more