A peasant farmer in Lekki, Lagos, Southwest Nigeria, Yesiru Onajobi, shocked a judge of a Federal High Court in Lagos when he said he actually had sex with his 14-year old daughter, Kehinde Onajobi, who became pregnant and gave birth to a baby girl for him.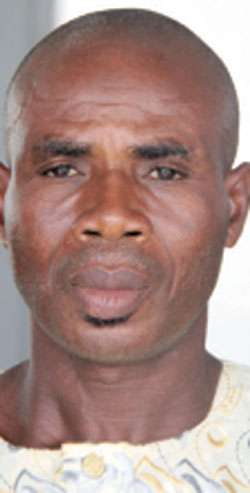 The farmer had appeared four times before the court but on the fourth occasion, his plea could not be taken.
Apart from the fact that he claimed to be an illiterate who does not understand English, he also had no legal representation.
However, during yesterday's sitting, a lawyer from the Legal Aid Council, Mr. A.A. Akpomureta appeared for him.
When the plea of Yesiru Onajobi was taken, to the amazement of the judge, Justice Pat Ajoku and the entire court, he pleaded guilty to the three-count charge.
The prosecuting lawyer, Mr. Olurotimi Ilori who represented the National Agency for the Prohibition of Trafficking in Persons, NAPTIP, told the court that he was ready with the fact of the case.
But because of the forthcoming court vacation, the matter had to be adjourned before the court could receive the facts of the case.
In his confessional statement filed before the court by Barrister Ilori, Onajobi who claimed to have been separated from his wife lives alone with the daughter. And he said it was the beauty of his daughter whenever she was dressing that made him to have sex with her.
He said he never knew what came over him.
He confessed that the illicit affair resulted in pregnancy and the birth of a baby.
The daughter, Kehinde Onajobi, gave birth to a baby girl who is now about nine months old.
The accused farmer named the granddaughter Aminat Omowunmi Yesiru. Both the mother and baby are hale and hearty and are being taken care of by Lagos State Ministry of Women Affairs.
The presiding judge, Justice Ajoku, has adjourned till 14 October, 2011 for the review of the case. Thereafter, judgement will be passed.
The farmer was first arraigned before the court on Tuesday, 7 June, 2011 by NAPTIP on a two-count charge.
The prosecutor, Barrister Ilori, alleged that Yesiru Onajobi, on or about 20 January, 2010 at Ibeju-Lekki within the jurisdiction of the Federal High Court seduced his daughter, Kehinde Onajobi, 14, at Bobije in Ibeju-Lekki, Lagos State while the daughter was under his custody.
According to the prosecution, the offence is contrary to section 19(a) of the Trafficking in Persons Prohibition Law Enforcement and Administration Act, 2003 as amended and punishable under the same section of the same Act.
At the previous sitting of the Federal High Court, his plea was not taken until yesterday.
—Akin Kuponiyi

Load more