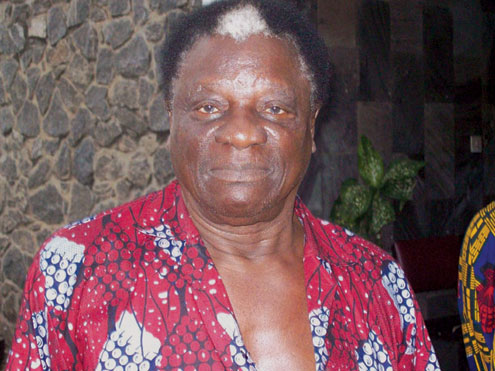 Octogenarian Evil Genius of Highlife, Dr. Vitor Abimbola Olaiya and his younger brother, Colonel Ebun Olaiya (retd), have described the death of veteran highlife musician and master guitarist, Alaba Pedro, as a rude shock and incredible, saying he was hale and hearty the last time they watched him perform at a regular weekly show at the Papingo Nite Club of Stadium Hotel, Surulere, Lagos shortly before he embarked on "that trip of no return."
Also, former PMAN president, Admiral Dele Abiodun, while expressing shock over his death, acknowledged that everyone will die some day, but that it should not be frequent among artistes.
Alaba Pedro, 72 died on board an Arik aircraft on his way from New York, after a successful playing tour of the United States of America on Tuesday.
He was was part of the Faaji Agba Collective which performed at the 2011 Brooklyn Festival in New York, USA, which also featured Seun Anikulapo-Kuti.
Meanwhile, his burial has tentatively been slated for either 5 or 6 August, 2011.
First son of the late musician, Sunday, also an Agidigbo musician, told P.M. Entertainment on telephone that his father will likely be buried either next Friday, 5 August or Saturday, 6 August.
According to him, "there are no solid plans yet, but we are looking at next Friday or Saturday. We met today (Wednesday) but we don't want to bury him just like that. We will wait till next week. For instance, the promoter that took them abroad for the show is still there, we learnt he will return tomorrow (yesterday) and we want to wait to see him and finalise other plans."
He added that the family does not want to waste time before the musician is buried and that his corpse is at the morgue of the Air Force Base in Ikeja.
The late Alaba Pedro joined the late Roy Chicago's Rhythm Dandies as a guitarist in 1961, having been influenced by Ghanaian highlife music guitarists and played in different bands in Ibadan, Osogbo and Ijebu Ode, before relocating to Lagos.
He was a regular feature on Victor Olaiya's show at the Stadium Hotel every Saturday and perfored there a few weeks before he embarked on the New York trip.
—Kayode Aponmade

Load more