Determined to sustain a cleaner environment , Lagos State Government has revealed plans to introduce street cleanliness competition among all the streets in the state to further raise consciousness of the people on the need to maintain a clean environment.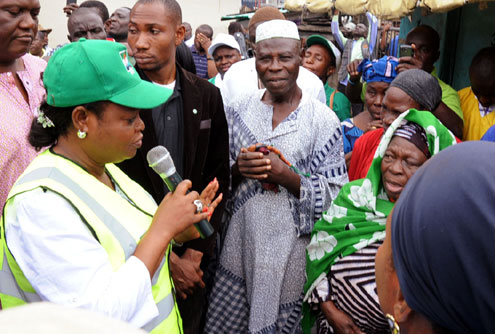 The State Deputy Governor, Adejoke Orelope Adefulire, made this known Saturday at Obalende during the monthly Environmental exercise held at Ikoyi / Obalende Local Council Development Area.
She explained that the initiative when started would further enhance cleanliness of the city as different communities would want to compete to win laurels /trophies, which she said may even attract cash gift to encourage more participation.
She therefore called on residents Associations to form themselves into Street Captains and street Ambassadors so as to let government work out the modality for forming the competition.
On the perennial flood troubling people of Obalende and Dolphin Estate, The Deputy Governor remarked that the state government had invested huge amount in cleaning and dredging various drainage channels in the area, warning them to stop sabotaging the efforts through indiscriminate dumping of refuse.
"Indiscriminate dumping of refuse in the drains and canals is the major cause of flooding in the state", she said.
She however assured that government would as a matter of urgency embark on cleaning of channels and collector drains and urged local government chairmen in the state to complement government efforts by cleaning all tertiary drains in their domains.
While expressing optimism on the proposed street competition, the Deputy Governor explained that the introduction of similar competitions in markets few years ago had significantly improved on the market sanitation in the state, urging residents to support government initiatives that would bring about a sustainable development to the state.
Earlier, Chairman of Ikoyi/ Obalende LCDA, Rasaq Adewale Adeniji, has explained that the major challenge of his council area is flooding, urging the state government to come to their aids by dredging more canals that would allow storm water to move freely in to the lagoon.
The Deputy Governor also paid a visit to the Coker-Aguda Modern Market, which was gutted by fire earlier Saturday morning. She expressed the government's sympathy with the owners of shops and businesses that were consumed by the fire, disclosing that the State Governor, Babatunde Raji Fashola (SAN), ordered an evaluation of the extent of the fire.
She assured the market men and women of government's support as they try to rebuild the market but advised the women to stay away from the place, as the structures have become defective as a result of the fire, urging them to await directives from the local government as to when they can assess the place.

Load more