Nigeria's foremost polygamist, Alhaji Bello Masaba has raised the bar again in his polygamy.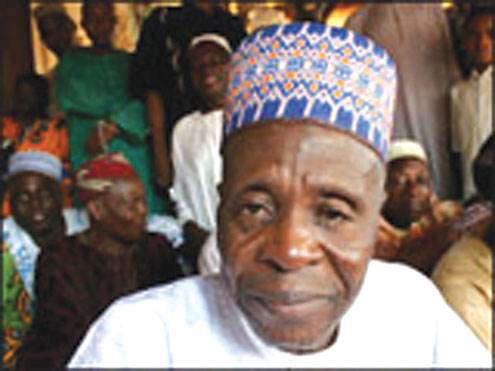 At a riveting ceremony Friday in Bida, in Nigeria's Niger State, he married his 91st wife. At 87 years of age, Masaba, an Islamic faith healer, who was detained for several weeks in 2008, for having too many wives, appears unrelenting in practising his peerless polygamy.
He now has close to 200 children, with 133 still surviving.
Interviewed in February by a foreign newspaper on how he satisfies his array of women, he said: "In his wisdom, God has given me the power and strength to give them the sexual portion they need," he says. "If I didn't satisfy them, they would leave."
So far, Masaba's record is unmatched by men in Nigeria. But his prowess in attracting women pales into a distant second to the polygamous record of King Lukengu of the Bakuba tribe in Congo. He has 800 wives and has even lost count of the children, according to Ten Ten(Most)Most.blogspot.com.
Struggling however to meet Masaba's pace are Ziona Chana, an Indian from the state of Mizoram, who has fathered 91 children from 39 wives; Saleh al Sayeri from Saudi Arabia who has married 58 wives and has 35 children and Warren Jeff, head of America's fundamentalist Mormons, who has 80 wives and 250 children. Jeff is facing the wrath of American law over bigamy and other offences.
In September 2008, Masaba faced the anger of puritanical Islam when he was arrested from his home and ordered to divorce 82 of his wives, leaving him with just four, as prescribed by Islam. He refused. The case dragged into an Abuja High Court, where he was released after the testimony of 57 of the wives that they married him willingly.

Load more