Football pundits were not surprised to see Coach of Guatemala, Ever Almeida, eating his words when he saw his boys losing scandalously to Nigeria's Flying Eagles in their first Group D game in the ongoing FIFA U-20 World Cup in Colombia.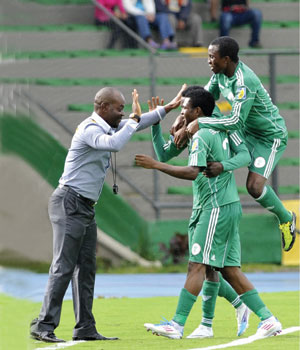 Almeida, who has boasted that the Guatemalans would take the fight to the Nigerian team was short of words after his side fell 0-5 to the Flying Eagles last night at the Centenario Stadium in Armenia, Quindío department, Colombia.
The finishing prowess of Nigeria's Edafe Egbedi and an inspired performance from winger, Ahmed Musa, troubling the Central American defence ensured an emphatic victory for John Obuh and his boys in the crucial encounter.
After the match, Coach Almeida saw the Flying Eagles as a good team who can go places in the World Youth Championship, WYC, if they put their acts together.
He said: "We knew that it was going to be hard match for us and we knew that Nigeria would rely on their fast players. They are a good side no doubt about that. The tactical reason behind our defeat was that we were not able to deal with the match well and stop the threat of the Nigerians. Not scoring is also a problem for us and we need to work on that aspect of our game in the future."
Obuh, however, believes his players made use of the chances that came their way in the match. "Guatemala are a good side, but with the kind of opportunities we had, we needed to score them," he said.
"My intention was to play with new players since we had two injured in the attack and one in the midfield and luckily for us, three of our defenders who were previously injured had a good game. I planned keeping those changes until the end depending on the players' situation, but I'm sure that those injured players should be ready for the next match against Croatia."
With this victory, Nigeria will have plenty of confidence to take into their next match on Wednesday against Croatia, while Guatemala will have to regroup ahead of their match with Saudi Arabia the same day.

Load more