A 29-year old cobbler, Tunde Ilufemi, made a shocking revelation at Isolo magistrate's court in Lagos Southwest Nigeria of how a team of policemen from Olosan Divsion Mushin, invaded his hotel room, robbed and charged him to court for robbery.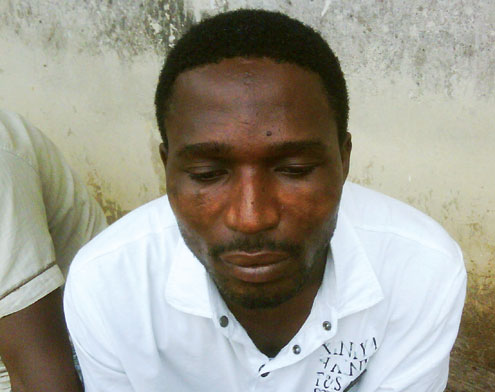 Ilufemi made the revelation before the presiding magistrate, Mrs. O. M. Ajayi, but the investigating police officer, Corporal Gideon Akinyefa, who brought the matter was not present in court to respond to the allegation.
Ilufemi told the court that the police conspired with a prostitute he slept with in a hotel in Mushin who informed them that he had a large sum of money with him in the hotel room. He alleged that the police forced his room open, battered him and carted away all the money he had on him including his handsets.
He claimed that the N31,000 that they took away from him was not returned to him even after the police had charged him to court.
He told the court that the police while bringing him to the court tricked him to plead guilty to the charge as a condition of regaining his freedom.
He had earlier pleaded guilty and the court adjourned till yesterday for facts and sentence before he raised his hand up to speak and he was allowed to address the court.
The OyoState-born Ilufemi was charged to the court to wit robbery. But the charge by the police did not state whom he robbed.
He told the presiding magistrate that the police at Olosan station framed him up after robbing him of his money and other valuables and charged him with robbery because he could not bring more money to add to the one they had already collected from him.
Ilufemi confessed that his predicament started last Friday after he won a local lottery popularly known as Baba Ijebu and decided to pass a night with a woman in a hotel.
He went to a hotel in Mushin and engaged the services of a prostitute. He said that he did not know that the girl he paid to sleep with was a dubious person who collaborated with the police to put him in trouble.
While he was still in the hotel room with the girl, simply known as Beauty, the police forced the door open and started beating him. He said that they searched him and collected his handsets and all the money he had.
They later dragged him to the station and demanded for more money. When he could not pay, they charged him to court with robbery.
He told the court that he was not a robber as the police claimed because he has a legitimate business he is doing in Mushin area.
Consequently, the court changed his plea of guilty to not guilty and granted him bail in the sum of N100,000 with two sureties in like sum.
The matter was adjourned till 8 August 2011 for mention.
—Cyriacus Izuekwe

Load more