A truck carrying a 40-feet container loaded with goods fell on four cars parked along the road in Agidingbi, Lagos State Southwest, Nigeria, yesterday.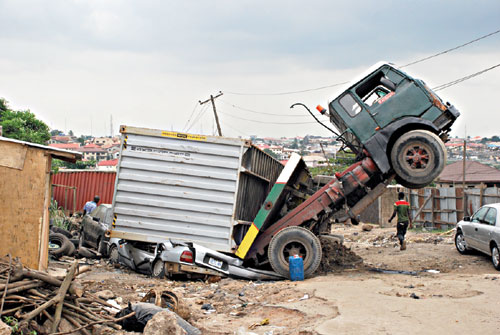 Although no life was lost, the affected cars were flattened and badly damaged.
The accident occurred on Lateef Jakande Road, off Agidingbi bus stop, Ikeja.
Eye witnesses told P.M.NEWS that the truck loaded goods at a company close to where the incident happened. And while the driver was moving out to connect the main road to its destination, the trailer developed a fault. The driver went and brought spare parts and repaired the vehicle.
But when he attempted to drive the trailer after it had been repaired, the container fell off the moving vehicle and tripped the truck in the process. The container fell on the four cars parked by the roadside for sale.
When P.M.NEWS visited the scene of the accident, the residents attributed the problem to the bad road that has not been repaired for a long time. The police and LATSMA officials were at the scene of the accident trying to clear the road to ease the traffic congestion caused by the accident.
None of the owners of the affected cars or the driver of the trailer was around to comment on the incident.
—Cyriacus Izuekwe

Load more