Flying Eagles of Nigeria face the challenge of a wounded Croatian team when both sides clash in the second group match in the ongoing FIFA U-20 World Cup in Armenia 2.a.m Thursday Nigerian time.
Croatia, who lost 0-2 to Saudi Arabia will be out to win this match at all costs, knowing that a loss will see them out of the tournament, while the Nigerian team will be battle ready to consolidate on their victory over Guatemala on Sunday.
It won't be an easy ride for Coach John Obuh and his boys who must scale the hurdles of Croatia to secure the ticket to the next round of the tourney and top the group. From Coach Obuh to the players, the assurance is that Croatia will fall in the crucial encounter.
Two goals hero, Edafe Egbedi, and his striking partner, Ahmed Musa, assured Nigerians of victory in the match. "I really believe we can beat Croatia. We won't just win, but also book a ticket for the second round,'' said Egbedi.
Meanwhile, Mali and Cameroun suffered losses yesterday in Colombia to leave their chances of progressing from the group stage of the FIFA U-20 World Cup in tatters.
Africaplays.com reports that Colombia handed Mali their second straight defeat to become the first team through to the round of 16, after strikes by Jose Valencia in the 23rd minute and James Rodriguez in second half stoppage time ensured a 2-0 win for the hosts. The result automatically sees the end of the Malian team in the youth championship, having lost their first match 0-2 against Korea Republic.
Cameroun slumped to a 1-0 loss in the hands of Portugal who became the first side to secure a win in Group B. The Europeans could have won by a higher margin, but fluffed a number of chances.
The young Lions are now bottom of their group with just a point, after New Zealand and Uruguay played out a 1-1 draw.
The performance of the Flying Eagles of Nigeria in the opening Group D match at the ongoing World Youth Championship, WYC, holding in Colombia has given Croatia something to fear about when both clash teams early Thursday morning in an encounter to decide if Nigeria would secure early qualification for the second round of the championship.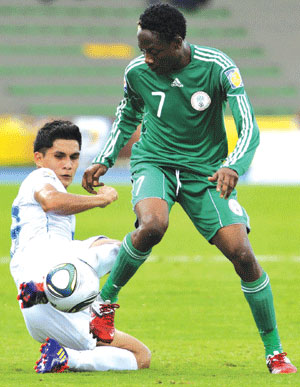 Nigeria put up an impressive performance against Guatemala with a 5-0 win in the opening match to send a warning signal to other opponents in the group.
Going back to the memory lane, Nigeria have good records in the World Youth Championship having placed third in USSR 1985, second in Saudi Arabia 1989 and also clinched second position in Holland 2005.
There is no doubt that the African champions must raise their game and avoid making too many mistakes to come out victorious against fast pacy European country in their second match of the WYC.
Nigerians will be banking on the prowess of Ahmed Musa, Edafe Egbedi, Kayode Olanrewaju, Abdul Ajagun and Captain Azeez Ramon who all came out strong against Guatemala on Sunday.
Soccer loving Nigerians are eager to see their darling team perform better than the previous match. However, soccer pundits opined that it is dangerous for the Flying Eagles to celebrate now, as their next match against Croatia will be a battle to the finish for both countries.
Croatia impressed a variety of observers at the UEFA U-19 European Championship in July. Few gave them much chance in a group that comprised Spain, Italy and Portugal, but Coach Ivan Grnja's side delivered a trio of exuberant displays to finish second behind the Spanish.
A narrow 2-1 defeat to the Iberians and subsequent 0-0 draw with Italy were followed by a 5-0 rout of Portugal in their decisive final match. The Croatians eventually bowed out at the semi-final stage against France, nonetheless secured their Colombia 2011 place by virtue of their top-four finish.

Load more