The police in Lagos, southwest Nigeria on Wednesday afternoon paraded two persons they arrested while attempting to supply 5000 cartons of expired to various markets in the state.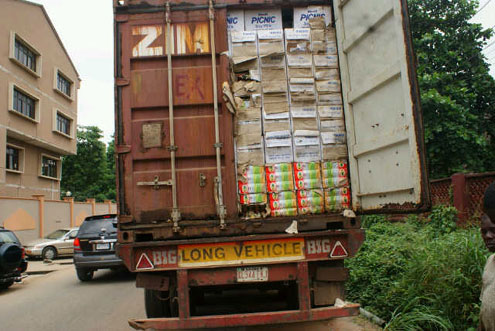 Speaking while parading the suspects at the Lagos State Police Command Headquarters in Ikeja, Samuel Jinadu, the state police spokesman disclosed that on 28 July this year, police X-squad from the office of the commissioner of police received a report that two containers loaded with Soy milk can drink was being conveyed from Owode Onirin in Ikorodu to various markets for sale.
Following the report, the squad went into action and intercepted the truck with registration No XL 344 FKJ at Ikorodu, Lagos, where it was discovered that the milk product, which expired on 15 December 2005, were neatly packed inside the truck.
According to Jinadu, a deputy superintendent of police, Alex Aguna and Olalekan Ajibade, who claimed to be the manager and customs agents to the company that is involved in conveying the expired product to customers' warehouses in Sagamu, Ogun state were arrested and subsequently interrogated by the police
Jinadu told P.M.NEWS that the two persons planned to change the expiry date of the milk and re-introduce it into markets in Lagos for sale to unsuspecting buyers.
One of the suspects, Olalekan Ajibade, told our reporter that contrary to the statement from the police spokesman, it was actually Femi Fela, it was a customs official that hired them to convey the expired milk from Ikorodu in Lagos to Sagamu in Ogun state for destruction.
According to Ajibade, the authorities of the Nigerian Customs okayed the arrangement and actually ordered some customs officials to accompany the truck from Lagos to Ogun state.
He, however, said that at a point during the journey, the customs officials as well as the driver of the truck disappeared into thin air, when the X-squad police officers stormed Ikorodu to effect their arrest.
—Emmanuel Udom

Load more