The body of Pastor (Mrs) Josephine Oluwadamilola Kuteyi has been laidto rest in her country home Ondo amidst wailing and outpour of encomiums by her relatives, the Ondo Community and prominent Nigerians from all walks of life whose lives she touched in her 56 years sojourn on earth.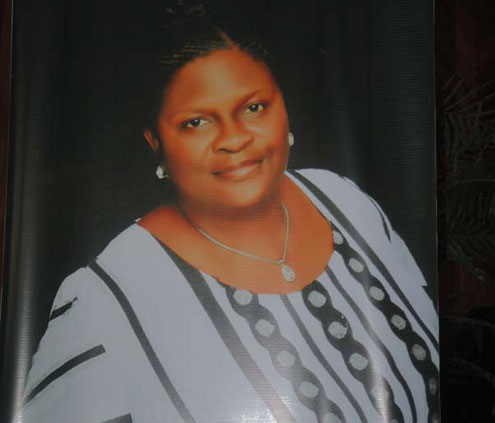 A special farewell service, which was held at the Oba Adesanoye Civic Centre in Ondo was attended by the Ondo State Governor, Dr Olusegun Mimiko andhis wife Olukemi, captains of industries and who's who in the nation.The Special Assistant to the General Overseer of the Redeemed Christian Church of God, Pastor Johnson Odesola, in his homily at theservice assured that anyone who died in Christ has a legacy and gain in heaven.The cleric, who described death as the only thing that is being shared equally by both the rich and the poor, urged the people to be closerto God so that they can inherit the kingdom of heaven, adding that thelate Pastor Kuteyi had done her part to God and humanity.
He admonished the people to re-examine their lives and avoid sin andwickedness which can serve as impediments to their eternal glory.
The Ondo State Governor, Dr Olusegun Mimiko, who spoke with newsmen shortly after the interment at the deceased home along Ondo –Akure Road, described the deceased as a true child of God who never allowed her chains of business to distract her from the service of God.He said "She was a passionate woman, a devoted Christian, a verynotable entrepreneur. she combined all of these as a good mother, agood Christian, an evangelist and at the same time, she was also a veryextra-ordinary businesswoman.
She was a philanthropist and one exciting thing about her life is that in spite of all the challengesthat business placed on her time, she had time for God. The childrenwill miss her, the Ondo community will miss her, the church of Godwill miss her and Nigeria will miss her. Our only consolation is thatshe lived a worthy life".
Pastor (Mrs) Josephine Oluwadamilola Kuteyi died last week Friday in an helicopter crash in Osun State on her way to Ilorin.

Load more