Basking in the euphoria of their qualification for the next round of the ongoing FIFA U-20 World Cup in Colombia with an emphatic victory over Croatia early today, Nigeria's Flying Eagles have expressed their readiness to confront Saudi Arabia in their third group match on Sunday.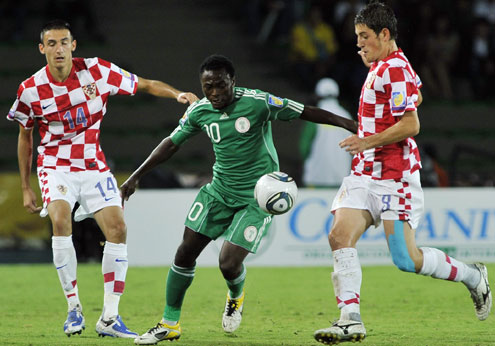 The John Obu-led team were too much for the Croats as they pummelled the European team 5-2 in the second Group D tie which was played 2a.m today.
Speaking live from Armenia, Colombia, after the match on Brila FM, strikers Olanrewaju Kayode and Uche Nwofor expressed the team's readiness to take the war to the Saudis in their next match, which they will play to consolidate their leadership on the group's table.
Kayode, who scored the first goal against the Croats in the 25th minute of the first half, said he is confident that they will beat Saudi Arabia on Sunday.
"Let me assure people back home that we are ready to show our superiority over the Saudis. We watched their match against Croatia and we knew their style of play, I think we won't have problem in winning the tie," said the Asec Mimosa of Cote d'Ivoire star.
"I am not saying it's going to be an easy tie, but we are not ready to drop any point not to talk of losing to the Saudis," he said.
Nwofor, a substitute in the match against Croatia, who plays for Rangers International of Enugu in the local league, was quick to state that the Saudis won't withstand their onslaught on Sunday when they clash in Pereira, Colombia.
"I don't see them containing us when we play each other in the match that will decide who tops the group because we have been charged to go all the way for victory.
"We are going to take the match like every other tie we have won in this competition and I am confident that we are going to break their defence to win the match," he boasted.
Meanwhile, the Minister of Sports and Chairman, National Sports Commission, NSC, Yusuf Suleiman, has charged the Flying Eagles to beat Saudi Arabia on Sunday.
He also charged the team to go on and show the African spirit in them by winning the trophy as Ghana did in the last edition.
He said the government and the people of Nigeria are solidly behind them, adding that the Federal Government will support them to succeed in the tournament, which the country has not won before.
—Bamidele Olowosagba

Load more