Thousands of members of the Action Congress of Nigeria (ACN) this morning protested at the Oyo State House of Assembly over the list of nominees just as workers in the state declared an indefinite strike over the refusal of Governor Abiola Ajimobi to implement the N18,000 minimum wage.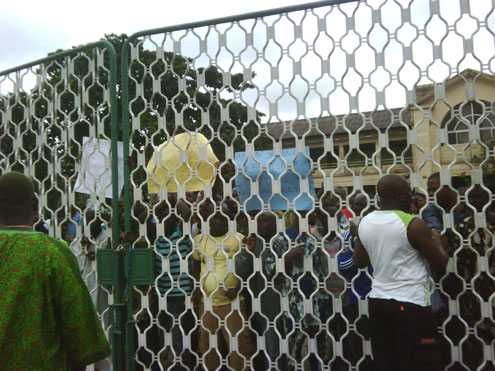 The protesting ACN members came to the assembly with different placards and inscriptions abusing Governor Ajimobi.
They accused the governor of betraying the trust they had in him.
They also accused him of anti-party activities for romancing members of the Accord Party at the detriment of ACN members.
It took the intervention of security operatives to drive them out of the premises.
Among the inscriptions on their placards are: 'Ajimobi, don't destroy ACN', 'Ajimobi, you won governorship election through ACN and you must be loyal to the party', 'Ajimobi is turning to Accord Party and we will not accept that.'
Meanwhile, members of the executive and the legislative arms were meeting on the crisis as at the time of filing this report.
The Oyo State chapter of the NLC this morning also declared an indefinite strike to protest non payment of the N18000 minimum wage.
—Gbenro Adesina/Ibadan

Load more