Wife of a Kaduna-based Hip-Hop musician, Christabel Ukpabia has alleged that the police in Kaduna wrongly shot her musician husband, Stanley Ukpabia a.k.a. Desty Randy for alleged robbery.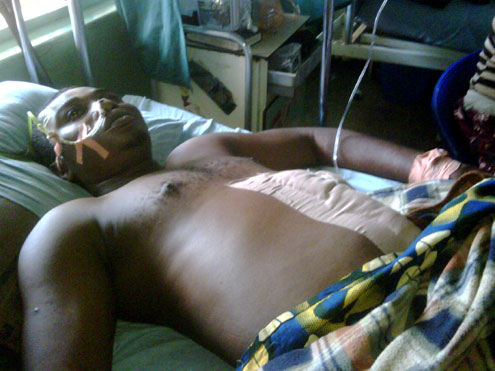 But the police have denied shooting anybody. However, it confirmed that an armed robbery suspect Randy was arrested and in the process injured.
Randy's wife, Christabel , who informed P.M.NEWS today about the incident, explained that four policemen dressed in mufti on Wednesday, 3 August raided Mando area Kawo in search a notorious armed robber who bears similar nick name Randy with her husband, but have not even confirmed whether he is the criminal or not before one them opened fire on him.
Christabel told P.M.NEWS at Barau Dikko Specialist General Hospital, where her husband is currently receiving treatment that she is convinced that her husband is not a criminal.
When P.M.NEWS contacted the state Police Command Public Relations Officer. Aminu Lawan on phone , he said nobody shot any Randy as alleged .
Lawan however, disclosed that what the police did was to arrest a suspected armed robber who resisted arrest and in the process was injured .
On why the police sent armed personnel to guard Randy at the Barau Dikko Hospital, Lawan claimed it is to secure him until he gets well.
Meanwhile , Randy's wife insisted the police shot her husband rather than the injury they are claiming. She claimed she has hospital X-Ray reports and eye witness accounts to prove that the police actually shot her husband wrongly .
She threatened to take up the case with the police as soon as he gets better.
By By Femi Adi /Kaduna

Load more