The former Chief Security Officer, CSO, to the late Nigerian Head of State, General Sani Abacha, Major Hamzat Al-Mustapha, who claimed to have worked with his late boss from 1985 when he was Chief of Army Staff till 8 June, 1998 when Abacha died, admitted today under cross-examination by leading prosecuting counsel, Pedro Lawal, SAN, that Abacha survived four coup attempts during his dictatorship.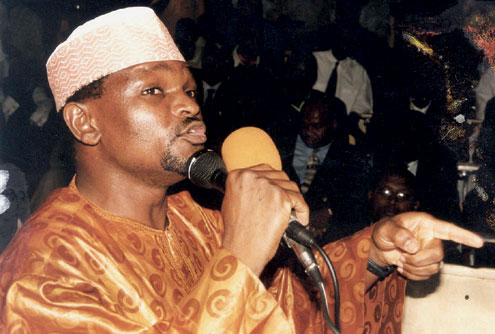 Al-Mustapha said his former boss was the most hated Nigerian Head of State.
He also admitted that the National Democratic Coalition, NADECO, was one of the opposition groups at the height of the Abacha dictatorship but he disagreed with the prosecution that NADECO was the foremost opposition group.
Al-Mustapha claimed that the toughest opposition was from the military as the Abacha regime survived four coup attempts.
When asked if Pa Abraham Adesanya, Pa Alfred Rewane, the late Alhaja Suliat Adedeji, Mr. Ayo Opadokun, Mr. Porbeni, Mr. Alex Ibru, Pa Anthony Enahoro and Kudirat Abiola, were known to him, Al-Mustapha said he knew only Alex Ibru as a minister and he never arrested any of the people mentioned as there were security agents assigned with the responsibility of arresting and detaining people.
He told the court that he sent Rabo Lawal, the head of Aso Rock Mopol unit to Lagos to protect General Abacha's property as NADECO chiefs were said to be holding meetings in order to bomb his house and when the tension was so high, the then Garrison Commander in Lagos, Patrick Aziza was ordered to take over the protection of the property.
Al-Mustapha said he faced 10 panels in Lagos from 1998 to 1999. The first panel was instituted by the Chief of Staff in the case of General Oladipo Diya's property, who was then a coup suspect.
He also faced another panel in respect of Abacha's money, while he was brought before a panel probing Abacha's property.
While facing another panel of investigation, the former CSO said he was accused of importing bombs from Libya in order to remove General Abdulsalami Abubakar.
This panel led to another panel set up to investigate an allegation that he was planning a coup to topple Abdulsalami's regime.
The current charge against him was instituted by the Agbaje panel in 2000, Al-Mustapha further asserted.
He said in 2002, he appeared before Oputa Panel and in 2004, the Nigeria Judicial Council constituted a panel in Kirikiri Prison, Apapa, Lagos, to investigate a petition they wrote against the judge trying him and others at that time, as there were clear indications that they could not get justice.
He said the panel did not produce any report as a man called Chief Martins, who was supposed to testify before the panel died some hours before he appeared before the panel.
And the last Special Investigation Panel, SIP, he faced sat in Abuja. The SIP comprised people like Col. Kayode Are, Chairman, AIG Ojomo who was in charge of Panti, Commissioner of Police, CP Monday Udodom, Col. Deni Bai from the Army Intelligence Unit, Danzame and Ibrahim from the State Security Service, SSS, Mrs. Nwogu, Mrs. Soleye and Deputy Commissioner of Police, DCP Felix Ogbaudu.
He said the then Inspector General of Police arrested M.K.O. Abiola and when Abiola was moved from Gashua to Abuja, he was mandated to protect him.
He added that he used to pay N800,000 quarterly to the Commissioner of Police who was in charge of Abiola's food.
Al-Mustapha also told the court that people who stood against the actualisation of Abiola's mandate were highly placed people who could not be arrested let alone brought to book.
As at 12.45 p.m. when this report was being filed, Al-Mustapha's cross examination was ongoing.
His cross examination continues tomorrow, Wednesday and Thursday.
Since he began giving evidence, Al-Mustapha has been dropping bombshells, one of which was the allegation that Yoruba leaders were used by the military to truncate Abiola's June 12, 1993 presidential mandate.
—Akin Kuponiyi

Load more