Relief yesterday came the way of the people of Ondo state as the direct sale of kerosene to the masses in the state was flagged off by the state governor, Dr Olusegun Mimiko in Akure the state capital.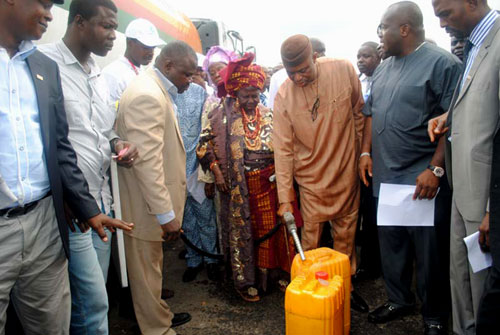 By that exercise, Ond State became the first state in the South West, aside from Lagos, to kick start the Direct-Kero Scheme.
The Kero-Direct Scheme, which is a collaborative effort between the state government with the Nigeria National Petroleum Corporation (NNPC) and Capital Oil, made available about 110,000 litres of kerosene for the use of 40,000 homes in the state at the scheme's pilot programme.
Assurances were also given by the state government to ensure that fuel dumps for the kerosene are made available to ensure that the scheme continues.
Governor Mimiko thanked President Goodluck Jonathan and the Minister of Petroleum Resources, Mrs Diezani Allison-Madueke for their concern to alleviate the suffering of the masses through massive supply of the product.
The governor noted that Ondo and Lagos states were the two centres approved by the Federal Government for the south west geo-political zone, describing the exercise as a continuous process until the scarcity of the product was addressed.
He added that dumps were to be sunk for the storage of the product with adequate security to be provided.
According to him, each person was entitled to 20 litres of the product and warned against adulterating the product, saying that it was mainly for household use and not for commercial purpose.
His words: "Kerosene has posed a great challenge to the people of this country. We appreciate the President of this country and also the Minister of Petroleum Resources for their concern to the plight of our people. We have put in place strategy to ensure that the exercise is a successful one.
"I want to appeal to our people not to adulterate this product, there is no middleman, it is exclusively for household use. Please don't mix it with anything because some people may want it to increase.
"I also want to appreciate Mr Ifeanyi Uba, the CEO of Capital Oil for this effort, we take you for your word that this process will be sustained. This product will be of direct benefit to our people whohave suffered a lot because of this kerosene scarcity."
He, however, enjoined council chairmen in the state to ensure the success of the exercise in their respective local governments.
Earlier in his speech, the Managing Director of Capital Oil, Mr Ifeanyi Uba commended the President for the initiative aimed at alleviating the suffering of the masses and also commended the state government for the modalities put in place to ensure the smooth sale of the product.
He also disclosed that the exercise would be a continuous one, thanking the governor for the assurance of the provision of fuel dump to conserve the fuel.

Load more