The Nigeria Postal Services, NIPOST, Union of Pensioners Lagos State chapter trooped to the streets this morning to protest non-payment of their pension arrears and death of 219 of their members.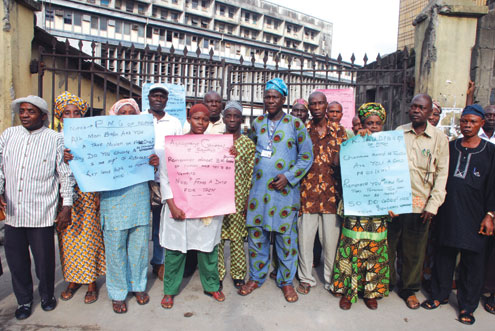 The protesters blocked the main entrance to the General Post Office, Marina, this morning to make their grievances known.
They carried placards with inscriptions such as: "4071 billion naira NIPOST pension in Accountant General and Post Master General's fixed accounts," "NIPOST Pensioners Lost 219 members because of unpaid Pension arrears," "Accountant-General of the Federation, remember that 3,000 pensioners of NIPOST are yet to be verified, keep a date for them," etc.
The protesting NIPOST pensioners are mostly those who retired between1996 and 2009 and the newly retired ones.
The protesters also picketed Ikeja General Post Office, the Lafiaji NIPOST headquarters annex and Somolu post office.
Speaking with P.M.NEWS, Pa Awolusi Femi, the Secretary, NIPOST Union of Pensioners, Lagos State chapter, said that for the past one year their pensions and arrears have not been paid despite carrying out all necessary documentattion.
He said: "Letters have been sent to the Post Master General, PMG, and the Accountant General of the Federation to bail us out of our present predicament, but all to no avail.
"We have done all they asked us to do since November 2010 hoping that they would pay us at the end of the exercise but they have been making mere empty promises.
"Recently, 219 members of our union died because they had no money to take care of themselves. They want to kill all of us before they pay our money or keep it.
"The PMG feels unconcerned about our plight. He should have done something about our problem."
Another NIPOST pensioner, Mr. Patrick Airiohuodion, who retired as Chief Postal Controller on Grade Level 14, corroborated Awolusi's claim, adding that all their secretary's averments were nothing but the truth.
Ike Uzoaya said most of the pensioners have been paralysed, stressing that they were screened on wheel chairs during the verification exercise.
"At the end of the screening in 2010, they promised to pay our money. But up till today, nothing has been done. Many of our members are dying. We have children and other dependants. The Federal Government should come to our aid," Uzoaya said.
Another NIPOST pensioner, Ishola Liasu, said in December 2006 when the verification exercise took place, the management of NIPOST assured them that their money will be paid soonest but so far nothing has been done.
Officials of the NIPOST could not be reached for their reactions as at press time.
The protesters cordoned off NIPOST offices as they formed human barricade around the offices.
—Jamiu Yisa

Load more