An expatriate was shot dead this afternoon on ACME Road, Ogba Industrial Estate, Lagos, Southwest Nigeria.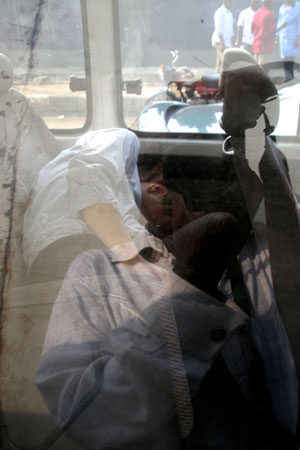 He was believed to be an accountant with Western Metal Products Company Limited, WEMPCO, located on WEMPCO Road, Ogba, and hailed from China. He was simply identified as Mr. Henri.
Eyewitnesses said he might have been trailed from a bank on Adeniyi Jones Avenue, Ikeja, where he had reportedly withdrawn an undisclosed sum of money.
The lone gunman shot him in the head inside the white company bus with Lagos registration number XM 318 LSD that was conveying him, and he died instantly.
According to the driver of the bus who was the only person with the expatriate when the incident happened, the gunman appeared from nowhere and shot him in the head, collected the money that had just been withdrawn from a bank and dsiappeared.
The driver was too shocked to speak further about the incident.
His corpse was later removed and deposited in the mortuary.
When our reporter visted his company's office, none of the staff was willing to comment on the incident.
By Paul Sanusi

Load more