A robbery suspect identified as Raphael Segun Alape met his waterloo at the weekend during an operation at Ramota Lane, Apollo area of Makoko, Yaba, Lagos State, Southwest Nigeria.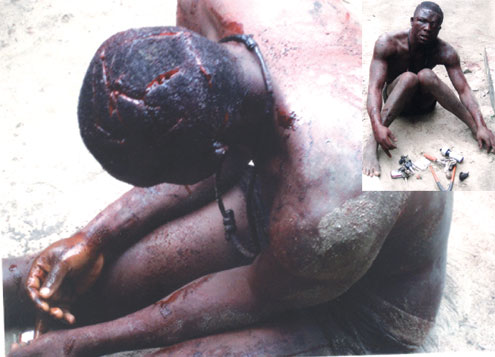 While three other members of the robbery gang were lucky to escape the angry mob, Alape was not that lucky. The youths seized him, battered his head before policemen from Adekunle Police Division could arrive the scene.
Some of the youths and residents in the area who spoke with P.M.NEWS at the scene of the incident said the four-man gang invaded their residence at about 2 a.m. armed with guns, machetes and knives to rob them.
The robbers shot several times and broke into their apartments to steal money, handsets and other items.
P.M.NEWS gathered that despite the shooting by the robbers to scare residents, the youths, who claimed they had been having sleepless nights because of the robbers, confronted them and in the ensuing commotion and stampede, caught one of the robbers, while three others escaped.
But the fleeing robbers were said to have succeeded in robbing some residents of Ramota Lane of N250,000 cash and about eight handsets from their apartments.
Items recovered from the arrested robber include: bunch of keys of different vehicles, screw driver, burglary plier, touch light, Nokia phone, charms and amulets.
When he was asked about his gun, he said: "I don't handle gun, but I specialise in breaking and entering houses to rob, removing vehicles from where they are parked. My fleeing colleagues specialise in shooting guns to scare people before we rob them. They escaped with the guns."
In his confession to the mob, Alape begged them not to kill him: "Please forgive me. Don't kill me. I promise to repent. It is true we have been breaking into apartments in Makoko to rob residents for long and we are all from Cotonou, Republic of Benin but I promise not to rob again," he pleaded.
Speaking with P.M.NEWS on condition of anonymity at the scene of the incident, a youth in the area said the youth in Makoko have decided to be vigilant and alert because the activities of criminals in Mokoko have become so rampant that they have been portrayed as criminally-minded people when non-residents are behind the incessant robbery attacks.
"We are going to intensify our vigilance to help ourselves and the community in preserving our image and also assist the police in crime prevention," the youth said
When P.M.NEWS visited Adekunle Police Division, Yaba, to see the Divisional Police Officer, DPO, for his comment, he was said to have gone to the Lagos State Police Command Headquarters, Ikeja, to brief his boss.
A police source confirmed the incident and added that they have launched a manhunt for the fleeing robbery suspects.
Meanwhile, residents of Yaba and Makoko have commended the new DPO of Adekunle Police Division for his quick response to distress calls each time there was a crime incident in the community.
—Paul Iyoghojie

Load more