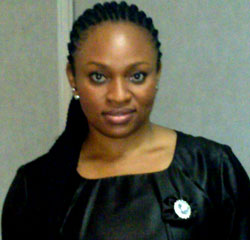 I don't fail to tell people it's a man's world in Nigeria. The saying that it is a woman's world is applicable to other countries, but definitely not Nigeria.
I keep wondering why the woman is always held responsible for a man's death, but the man is left and encouraged to take in another woman immediately the woman drops dead.
Isn't it surprising how in-laws, even those who called you sweetheart before their brother, all turn against you the moment the man walks into eternity. I have not lost anyone in my family, but I have seen women go through hell at the death of their spouse.
Widowhood and the pain associated with it is not new to the Nigerian woman. I extol the virtues of all Nigerian women; we go through pain and are constantly made to pass through fire, but being what we are, we always conquer all. God bless the Nigerian woman.
But there is one area where we are getting it wrong. We have gone through pain in this very area, yet we refuse to learn from the mistakes of others. Widowhood is something nobody prays for, but it is also inevitable. You may sleep a married and wake up a widow.
I always tell women that the greatest thing they can do for themselves and their children is to be very close to their husbands. I am not talking about the kind of closeness we have in the Igbo culture where the man laughs with you, gives you the most expensive ride and good life in different colours. But you don't even have your name in his company and neither do you know what he is worth. My dear ladies, there is no closeness in this.
It is our prayers for the man to live and age with us. It is our prayers for our men to see our children's children with us. It is certain that nobody knows who goes first. But it is also certain that the man, in few cases, misses his wife for just a few months after death and then goes over to the next available woman. But this is not the case of a typical Nigerian woman (though some evil women exist). The Nigerian woman is very committed to her husband and children. Even when they are not too attached to the man, they are drawn back from taking certain steps the moment they look at their children.
The first advice people give to a woman at the death of their spouse is, "you don't need another husband because God has blessed you with enough children". This is more obtainable in my culture and this why we have a lot of miserable young widows in the east. I run an NGO for the widows and I can tell you that the most miserable of them all are widows from the east.
Last week, during my teaching, I told them to go and get married. I am happy that I was able to open their eyes to the truth and I am sure many of them are ready to take a step in the right direction.
You listen to these people without knowing where they are coming from. Your mother is an illiterate who doesn't even know any other life aside the Igbo tradition. Your relations are afraid because they don't know what awaits you and the children in the next marriage. Nigerians have this mindset that your second husband can never be like the first. Hear this; when God raises a man for you, he becomes your heaven on earth. Just seek His face and ask Him to send you the right man whose heart He has touched. I remember a friend going out of his way to sell things just to buy an SUV for his step father as a birthday present. According to him, this very man loved him and his four siblings the way his biological father didn't.
If you are a young widow, please forget living your life to please the society. Stop living for your relations and friends; start living for you and your children. Life is not about having too much in your bank account, it is about living and being happy with life without losing your relationship with the creator.
Some of those your advisers are there because they want to go on having you whenever they want. It's really sad that women allow themselves to be used by men against their fellow women. The day we learn to start supporting one another, our deliverance comes.
You, "Nwa-ada" that are always called to come and torture your brother's widow; have you sat down to think about your own life? You will always reap the fruits of your labour and even when you fail to reap it; your daughters are going to reap it. What on earth will make you, a woman, accept to be the one to force another woman to drink water from a corpse? You are the one to assist the men who set out to torture the poor woman because of her refusal to sleep with them. You always stood by your brother when he was alive and now that he is gone, the widow and his children mean nothing to you. You should be ashamed of yourself because you are a disgrace to womanhood.
Fellow women, please refuse to get married to a man you know nothing about and have no feelings for simply because tradition says so and that is the only condition for your inheriting your late husband's wealth. I think we are the ones bringing ourselves down because of our gullible nature. You should fight for your rights while the man is alive or choose to forget it at death and work hard to make it. God is the husband of the widows and He will always assist you.
Why should anyone force a woman to shave her hair at the death of her husband? Must this tradition be obeyed? Don't you think women have different ways of mourning their dead husbands? Are you in her bedroom when she cries endlessly at night? Do you stand by her when she looks at his picture with tears in her eyes? Don't you think she should be allowed to mourn him the way she wants to? What if the man had told her never to shave her hair for him at death? Women, please stop being used as agents of evil in the hands of men.
Please encourage your husband to do a will now that he is alive. Let him see the need for this and advise him to leave it in the hands of a trusted person/lawyer who has nothing to do with his family members. That administrator of his will should be someone of integrity because a lot of men left their will with people who turned around to deny the existence of such.
Stop parading yourself all over the place as Lolo…, get busy and stat working with your hands. Establish yourself now that he is here with you. If you are already a widow, stop listening to people and their wrong advice. Marriage is for companionship and not just for procreation. Some of these people will even advise you to get yourself a boyfriend who will be keeping you hot and forget about marriage. If that boyfriend is not married, he will someday and by the time you know what is happening, you are past the age of marriage.
Stop the style of moving from one man's room to the other. Widowhood shouldn't bring disgrace to your name and to your children. Make good use of it and look for something useful to do with your life. Refuse to accept that it is over with you because your man is gone. I am a single mother who is raising four grown-up children alone and I have no regrets whatsoever because God is God. If He has been there for me, He will always show up on your behalf. I am talking, not just to the widows, but to every single mother reading this. You are not a second-class citizen of Nigeria because your husband is gone. You are still the best and you must learn to walk with your shoulders high.
Don't lose your self-esteem because you are a widow or divorced parent. People can only look down on you the moment you begin to misbehave and live your life aimlessly. Whatever you call yourself is what others will call you. You must put in your best to make your late husband happy. You must not allow your children to hide their faces in shame whenever your name is called.
Never make the mistake of allowing your children see you in tears, except they are grown. You may not know, but whenever they see you in tears, some strange feelings go on in their inner man. They either grow up with vengeance in their hearts and if they are children, it affects their future. They know what you are going through and I pray they grow up to become your sources of consolation and strength. I also pray that you live to enjoy the fruits of your labour in those children. Just make sure you raise them up the right way and the way of God.
Arise woman and make yourself a heroine to your children. Other women are also watching you and you have suddenly become their source of strength and inspiration; you can't afford to fail them. Nigerian women are strong and you are no exception!!!

Load more