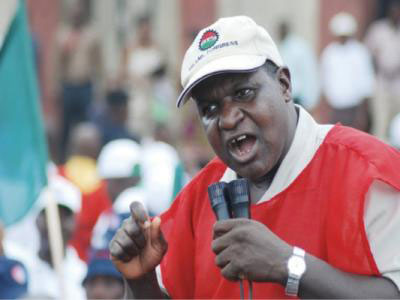 The Nigeria Labour Congress, NLC, has said that the Central Bank of Nigeria, CBN cannot absolve itself of blame over the failure of Bank PHB, Spring Bank and Afribank, the three banks which were taken over by government last Friday as a result of fears that they may not be able to meet the deadline set aside for them to recapitalise their operations.
The Labour Congress, in a statement issued and signed by its President, Comrade Abdulwaheed Omar, said this is because the banks were practically under the management of CBN for the past two years as the apex bank appointed their interim management.
While noting that the banks could not perform even after they were bailed out with tax payers' funds, NLC said even now under the management of Asset Management Company of Nigeria, AMCON, there is no assurance that the fortunes of the banks will be turned around for good, inspite of promises by CBN.
"We are of the view that the CBN cannot altogether escape blame in the prevailing crisis. It would be recalled that the CBN appointed the Interim Management of the banks, who failed to perform optimally despite a generous bailout with tax payers' funds few years ago.
What is the guarantee that the CBN-floated bridge banks through the proxy of the Asset Management Corporation of Nigeria, AMCON, would not face the same disastrous fate?
"Again, the financial regulators cannot extricate themselves from responsibility. As supervisors of the banking system, they have failed to check the continuous wobbling of the bailed banks some of which escaped the bridging hammer by the whiskers through hasty and inconclusive mergers," Omar said.
— Oluokun Ayorinde/Abuja

Load more