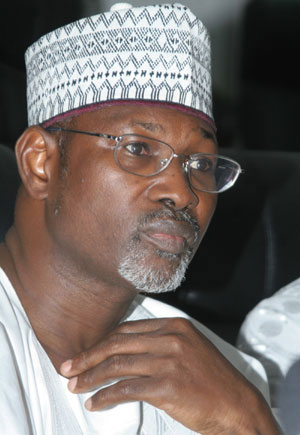 Some politicians on Tuesday condemned the plan by the Independent National Electoral Commission (INEC) to de-register political parties that did not win any seat in the last general elections.
Professor Attahiru Jega, the INEC Chairman, on Monday said the commission would commence de-registration of political parties that failed to secure a seat at the just concluded 2011 general elections.
Jega said the process would commence immediately the cases pending at the tribunals were concluded.
The News Agency of Nigeria (NAN) reports that the Conference of Nigeria Political Parties on May 6 asked INEC to start pruning the list of registered political parties in the country.
It urged it to remove the names of political parties that performed poorly at the polls as provided by the Electoral Act 2010.
Section 78 (71, ii) of the Electoral Act 2010 (amended), empowers INEC to de-register political parties for failure to win a seat in the National or State Assembly elections.
The commission was to de-register political parties on the following grounds: (i) breach of any of the requirements for registration and (ii) for failure to win a seat in the National or State Assembly election.
Mr. Damian Ogbonna, National Chairman of the Peoples Progressive Party (PPP) told NAN that INEC had no rights to de-register any political party.
He said his party was already in court over the matter.
According to him, two months ago, the National Assembly submitted some records to the Federal High Court indicating that the law did not empower INEC to de-register parties.
"The National Assembly's position is that the section is coupled. Therefore, INEC can not act on sub-section (ii) without the party faulting it in sub-section (i); sub-section (i) applies only to parties registered through fraudulent means.
"Based on this, INEC has no authority to de-register any party that was properly registered," he said.
Ogbonna noted that Nigeria was operating a democratic system of government, adding that a party should not be de-registered in a democratic setting.
Also, Alhaji Musa Umar, Deputy National Chairman, Alliance for Democracy (AD) said to de-register weak parties would be a fruitless venture and asked that the commission should rather raise the stake on party formation.
He urged INEC to withhold grants to the political parties, so that the weak ones would disappear with time.
Mr. Sam Onimisi, National Secretary, Democratic Peoples Alliance (DPA), however, advised INEC to allow the weak parties to grow at their own pace.
"The right thing for INEC is to allow parties to grow at their own pace. De-registration means that INEC is infringing on people's right of association, which is wrong," he said.
NAN reports that Nigeria currently has 63 registered political parties.

Load more