All eyes are on the Flying Eagles to do the country proud by qualifying for the quarter final of the ongoing FIFA U-20 World Cup in Colombia. They face England in the Round of 16 match scheduled for Armenia today at 11p.m. Nigerian time.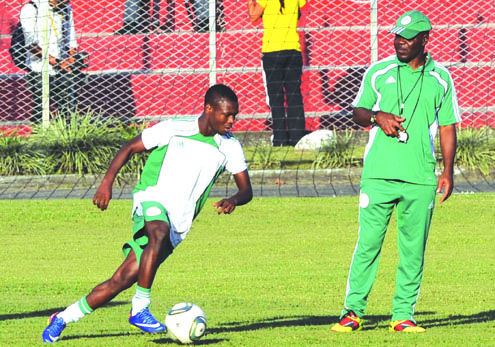 John Obuh and his team have been charged to go all out to defeat the English team in the crucial match and avoid disappointing soccer loving Nigerians and indeed Africans who have put their hope on the team.
Secretary General of the Nigerian Football Federation, NFF, Musa Amadu, said the Flying Eagles should not disappoint Nigerians tonight, adding that Nigerians are expecting the team to replicate the performance that saw them defeating Guatemala, Croatia and Saudi Arabia in the first round of the tourney.
''The Flying Eagles should win their match against England. The team should not disappoint the nation at this stage. They need to be more focused on winning the trophy for the nation and put smiles on the faces of Nigerians,'' he said.
He, however, urged the technical crew of the team led by John Obuh to perfect their plans and tactics in the match and ensure that nothing is left to chance against England. He added that the English team may not be too impressive at the first round but second round game may be a different ball game.
Former Flying Eagles player, Mike Onyemachara, wants the team to justify the confidence reposed in them by Nigerians. Onyemachara, who played at the Saudi '89 WYC, said that England should not be a threat to the Flying Eagles' ambition of winning the trophy for the nation for the first time. He added that the team should play with confidence and good winning mentality. He prayed that Mother luck should favour Nigeria in the encounter.
Former Super Eagles' midfielder and General Manager of Shooting Stars Football Club, 3SC, of Ibadan, Mutiu Adepoju, believes the Flying Eagles can win the trophy; but first they must beat England tonight. Adepoju said the team have the potential to become world champions with the way they have been handling their games in the competition.
Former Eagles' defender, Furo Iyenemi, told P.M.Sports that the team need luck, cohesion and speed to see off the English team in the match.
The former youth international advised the team to pray for luck, be aggressive against their opponents and also make use of speed because the English team are a little slow on the ball.
According to him, "the Nigerian team are good, but as they go into the match later today, they must pray for luck because this matters a lot in football. Apart from luck they need cohesion, they must be solid on the ball and another thing they need is speed. If Ahmed Musa and Terry Envoh can make wise use of their pace, I tell you, they will defeat England.
— Adebobola Alawode & Olusegun Abidoye

Load more