Osun State Governor, Ogbeni Rauf Aregbesola today swore in 14 commissioners with a charge they should match and surpass the benchmark of governance recorded by Chief Obafemi Awolowo in the First Republic.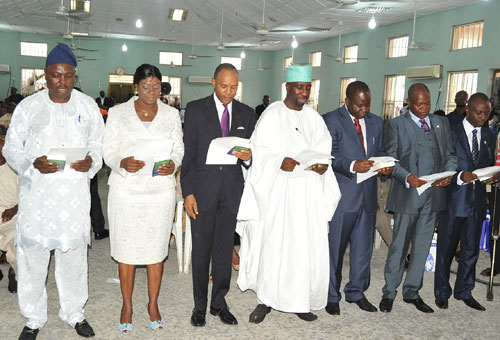 Aregbesola, during the swearing in ceremony, revealed that his predecessor, Prince Olagunsoye Oyinlola, held 48 cabinet meetings throughout his seven-and-half years in office.
In a speech delivered at the ceremony held inside the Local Government Service Commission hall, State Secretariat, Osogbo, Governor Aregbesola explained that the administration headed by Awolowo remains the most progressive in the history of Nigeria as it has become a benchmark for good governance and yet to be surpassed by anybody.
While charging the new commissioners to draw inspiration from that era, he explained that his style was patterned after that of Chief Awolowo whose team he described as the best with every member being brilliant.
Governor Aregbesola recalled further that Chief Awolowo attributed his success in office to his team and quoted the late sage as saying "My team of ministers was unequalled. It was a team of which any head of government in the world will be proud. It was a well knit, highly disciplined and fanatically loyal team. Each of them knew his subject well".
The governor stressed that he was guided by history in taking every step in governance since coming to power last November and urged them to demonstrate the capacity to justify the reason for their being appointment.
"To the appointees, you were chosen principally for two reasons. The first is your demonstrable capability and track record. The second is your ideological and political provenance," he added.
Explaining that all the commissioners drank from the same ideological fountain of Chief Obafemi Awolowo, Aregbesola expressed the confidence that his new team would match, if not surpass, the Awolowo benchmark.
Stating that his administration was warming up, the governor promised that "we are going to make a definitive statement on responsive and responsible governance as we transform Osun state positively in all ramifications".
He told the gathering that he was aware of the enormous challenges in education, healthcare delivery, job creation, infrastructure development, transportation, roads, sports, security, efficient administration of justice and other critical areas of governance.
Aregbesola, who called on the new commissioners to shame detractors with resounding success in office, cautioned that the detractors of his administration were hoping that his team would fail.
According to him, opponents of his administration were frustrated and disappointed in the past nine months by his achievements in office, saying "they were left with mouth agape when we created 20, 000 jobs in less than 100 days in office. They were shocked when we changed the orientation in the state with our rebranding programme that has now respectfully positioned Osun State as 'Ipinle Omoluabi'. They buried their heads in shame as we launched a very comprehensive agriculture development programme compared to their wasteful and ineffectual attempt in almost eight years.
"Of course, our other programmes like urban renewal, environmental sanitation, flood control and tourism promotion have thrown them into a fit. These are programmes that resonate with the aspirations and yearnings of the people and are therefore well received."
The governor added that his administration wanted to hit the ground running and alleged that it was for this reason that the Peoples Democratic Party (PDP) attempted to impeach him from office within the first week of his taking office.
Alleging that a plot was spearheaded by the Senate President, David Mark, the governor further said the PDP leaders plotted to destabilise Osun State by using PDP legislators to stage his impeachment.
Throwing more light on the plot, Aregbesola said: "the background to this was that the leader of the State House of Assembly was widely reported to have swornf, while we were still fighting for our mandate, that over his dead body would I mount the saddle in the state. But in demonstration of His sovereignty and supremacy over man, my mandate was restored and I mounted the saddle. He was fortunate, and should be thankful, that the Almighty did not take him literally at his words".
The government, he stressed, should be a blessing and not a burden on the people just as he traced the origin of government as a social contract in which individuals submitted their right to self government in exchange for the promotion of their welfare by the government.
Failure on the part of the government to fulfil its part of the contract, he said, led to rebellion and was responsible for the major conflict around the world currently.
The commissioners were allotted their ministries with Governor Aregebsola and his Deputy, Otunba Grace Titilayo Laoye-Tomori heading the Ministries of Works and Education respectively.
Others are: Dr. (Mrs.) Temitope Ilori (Health),Barrister Suraj Ajibola Bashir (Regional Integration and Special Duties),Mr. Sunday Akere (Information),Mr. Richard Adewale Adedoyin (Agric and Food Security),Mr. Muyiwa Ige (Lands and Physical Planning)Governor (Works)Deputy (Education),Mr. Wale Afolabi (AG & Commissioner for Justice)Mr. Stephen Kola Balogun (Youth & Sports Development), Kolapo Alimi (Local Government and Chieftaincy Affairs), Mr. Ismail Jayeoba Alagbada (Commerce, Co-operatives and Empowerment),Dr. Wale Bolorunduro (Finance and Economic Development), Professor Oyawoye (Environment), Ms. Mobolaji Akande (Women Affairs), Mr. Sikiru Ayedun (Tourism)
By Gbenro Adesina/Osogbo

Load more