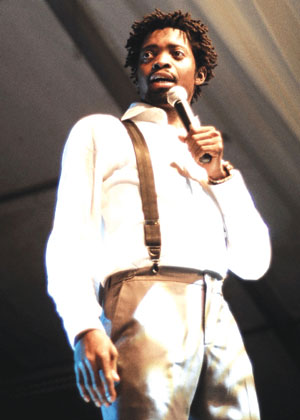 Comedian Bright Okpocha a.k.a. Basket Mouth, has said that lifting of other people's jokes by comedians is a crime.
Speaking with P.M. Entertainment, Okpocha said that jokes can inspire another joke but "recycling of jokes is universal. Even abroad people do it, but it is not as common as it is in this part of the world. However, most times, jokes can inspire another joke, there is nothing wrong with that, but when a comedian steals another person's joke outrightly, that's when it becomes a problem."
Basket Mouth, who will be anchoring The Big Friday Show on Silverbird Television, said there are some jokes that he has listened to and from which he developed his own.
According to him, "I have heard some jokes from people and I said nice one and from such, I grabbed the idea, worked around and did something with them. So with such turn around, you can't hold me culpable of stealing another man's jokes, but where the problem lies is that some people don't even try to change the stolen materials; they just take the materials and use them without reworking them. That is criminal."
Speaking on the new television series, Bright said "it is totally different. I am free and at liberty to do whatever I want to do. I have been asked to drive the show and what I am bringing into it is that apart from bringing Basket Mouth, I am also bringing Bright into it. I will be bringing my creativity into it because if the show is successful, I am part of the glory and if it fails, I am also part of it. But definitely, it is not going to fail."
Airing every Friday night, The Big Friday Show, brings fireworks, fun and Nigerian youth culture to Friday night TV viewing and it is a collaborative effort of Mtv Base and STV.

Load more