Lagos State Commissioner for Information, Lateef Aderemi Ibirogba, this morning assured Lagosians that the new law on rent in the state will be successful.
Ibirogba, who gave this assurance during a visit to Corporate Headquarters of ICNL, publishers of TheNEWS/P.M.NEWS/A.M.SPORTS, also assured landlords and tenants that the new law would protect their interests.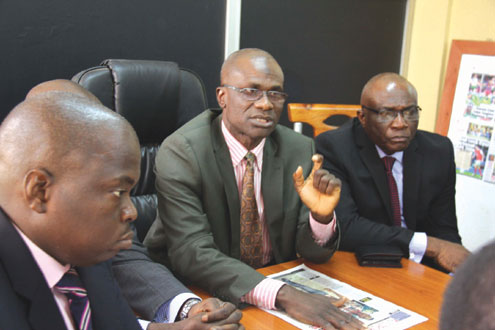 The commissioner explained that the law would be regulated to serve both the landlords and tenants in the state. Ibirogba also revealed that the state government would soon ban the operation of commercial motorcycle a.k.a. okada beyond 10 p.m. throughout the state.
This he disclosed was necessary to check the rising crime rate in the state which security report had blamed on okada operators.
He said the state government was in possession of information that most crime committed in the state were carried out with the aid of okada.
"We want to stamp out crime in the state and we are doing this by banning the operation of okada beyond 10 p.m.
The commissioner declared that Governor Babatunde Fashola was determined to take Lagos to a greater height, stressing that the governor has been going around the state to feel the pulse of the people so as to respond to their needs and aspirations.
"We don't want to know how you got to Lagos but we're determined to make you happy. Everybody in Lagos must be happy. That is why we are here," Ibirogba added.
The Lagos State spokesman also advised Lagosians to shun their dirty habit and stop throwing refuse into the gutters.
He disclosed that the state would soon embark on an enlightenment campaign to change the dirty habits of Lagosians.
On the entourage of the commissioner were the Special Adviser to the governor on Information, Mr. Lateef Raji, Permanent Secretary, Ministry of Information, Mrs. Oluranti Odutola, the Special Adviser to the governor on Media, Mr. Hakeem Bello and other officials.

Load more